Lakeside Community Sewerage Schemes
Rotorua Lakes Council is committed to providing sewerage schemes to service most Rotorua District lakeside communities. The council has also identified sewer servicing options for communities that are not part of the Lakeside Communities Sewerage Scheme Programme.
The programme will connect about 2,300 dwellings currently serviced by conventional septic tank and soakage field systems, with a reticulated sewerage network. Failed septic tanks in lakeside areas have been known to contribute to nutrients entering lake water and to be the source of faecal contamination which endangers public health. Eliminating these problems is one of the measures necessary to improve the water quality of Rotorua's major lakes.
Saving our lakes - sewerage schemes for lakeside communities
Lake Rotoiti and Lake Rotomā Programme
Council continues to engage with the community about a sewerage system for East Rotoiti and Rotoma which aims to protect the health of the lakes, community and ensure its in a way that is culturally appropriate.
A local treatment plant site has been identified and will be built behind the Rotoiti Emery Store (1434 State Highway 30, Rotorua) on land owned by the Haumingi 9B3B Incorporation. This site will also become home to the land disposal site.
During 2015, as part of consultation on Council's Long-term Plan (LTP), information was sent out and meetings held to update the community and help people make informed submissions to the LTP.
A preferred option for a sewerage scheme for East Rotoiti and Rotoma was approved by Council in December 2014. The area the proposed scheme covers is from Curtis Road along SH30 to the Rotoma hills, including side roads. Kennedy Bay and Otautu Bay are not included.
In 2012 the council's application for resource consent for its then chosen scheme failed in the Environment Court. Council made a fresh start, working closely with iwi and community groups and the Rotoiti/Rotoma Sewerage Steering Committee (RRSSC) which was set up, with Ian McLean as independent chairperson. Iwi, community organisations, local and central government authorities have worked closely to come up with a preferred option.
Progress updates about the project
Visit the project site for the latest updates
Earlier community updates can be found below:
Tarawera Sewerage Scheme
Work is underway to investigate a reticulated sewerage scheme for the Tarawera community. In late 2016 the Tarawera Sewerage Committee was established at the community's request, and with support from Council, it will progress the project, secure funding and address community concern about water quality and drinking water.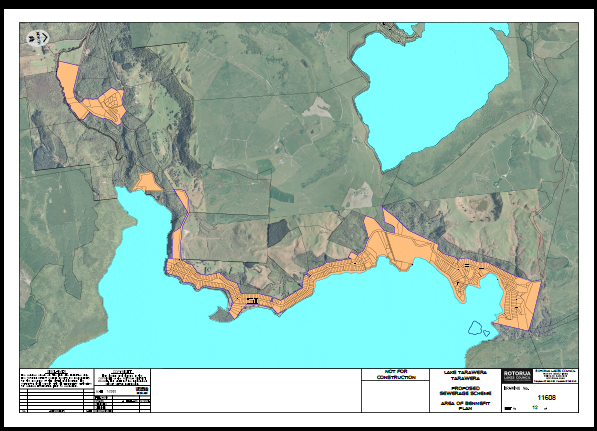 Otautu Bay/Lake Rotoehu
Minutes of Public Meeting to obtain information for a Waste Water Scheme 4 October 2014
Sewerage Scheme Programme
The table below shows the indicative costs, programmed completion date and current status of implementation for the Lakeside Communities Sewerage Scheme Programme:
Location

Indicative Cost ($Millions)

Programmed Completed Date
Current Project Status
Mourea/Okawa Bay
$8.9m
Completed June 2006
98% of properties connected
Hinemoa Point

$1.4m
Completed July 2008
100% of properties connected
Brunswick / Rotokawa
$12.5m
Completed November 2009
70% of properties connected
Okareka / Blue Lake

$9.7m
Completed
October 2010
100% of properties connected
Okere Falls /Otaramarae / Whangamarino

$14.7m
Completed September
2011
99% of properties connected
Gisborne Point/Hinehopu
$15m
2014
Reticulation design completed. Treatment and disposal options being assessed.
Hamurana / Awahou

$16.6m
2013
99% of properties connected
Tarawera
$13.8m
2014
Detailed feasibility study completed. Community consultation to start soon.
Rotoma
$12.4m
2015
Detailed design completed. Treatment and disposal options being assessed.
Maps showing the service areas for the above schemes are attached (LTCCP maps).
Scheme Funding
The capital cost of the proposed sewerage schemes is covered in part by a 50% subsidy from Central Government; through the Ministry of Health for Mourea /Okawa Bay) and the Ministry for the Environment (for Brunswick/Rotokawa, Okareka/Blue Lake, Okere Falls/Otaramarae/Whangamarino, Gisborne Point/Hinehopu and Hamurana/Awahou). Further subsidy applications will be made to Central Government for Rotoma and Tarawera lakes.
The remainder of capital costs will be funded by a combination of Environment Bay of Plenty grants, commercial users' contributions, Rotorua Lakes Council general rates and individual ratepayer contributions.
Low Pressure Grinder Pump (LPGP) Systems
Communities in the Lakeside Communities Sewerage Scheme programme generally have difficult topography and high groundwater levels on lakeside properties. This means high costs for laying pipes because of the extensive use of dewatering equipment and disturbance of properties from open trench excavations. This was highlighted during construction of a conventional gravity system at Mourea/Okawa Bay. As a result, Council investigated other sewer servicing options that would be preferable to conventional gravity systems.
The evaluation process revealed that Low Pressure Grinder Pump systems are the best alternative because of cost and environmental considerations.
Implementation of New Zealand's first community-wide Low Pressure Grinder Pump system has been completed at Hinemoa Point. This system will connect 60 existing properties and a Marae to the community sewer system and also allows for future development in the area.
Installation of 40 unit LPGP system at Brunswick/Rotokawa area, and all of the Okareka/Blue Lake and Okere Falls/Otaramarae/Whangamarino communities have been connected to the Low Pressure Grinder Pump systems.
Other Areas Being Considered for the Sewerage Scheme Programme
A study has been undertaken to establish sewering options for communities not currently included in the sewerage programme. Planning and detailed investigations of a proposed sewerage scheme would proceed if most people in the following communities support proposals:
Mamaku
Kennedy Bay/Otautu Bay
Clayton / Mountain Road
Fairy Springs
Feasibility studies of these communities will be assessed in 2013/ 2014.
If you have further queries on the above please contact Greg Manzano at Rotorua Lakes Council on (07) 348 4199.