Community Biking Events
There are a number of community bike rides held across the course of a year, for a range of ages and riding abilities. These community bike events encourage residents to explore the shared path network and local bike routes in a relaxed and fun social setting.
Frocks on Bikes
The Frocks on Bikes movement began in Wellington in 2008 at a 'Go by Bike Day' commuter event. Frocks on Bikes is a fun and social bike ride that celebrates cycling as an everyday activity that anyone can enjoy. There aren't many rules, except that you can't wear lycra! A free and family friendly event, and all are welcome. The Frocks on Bikes event is usually held in conjunction with the Rotorua Bike Festival.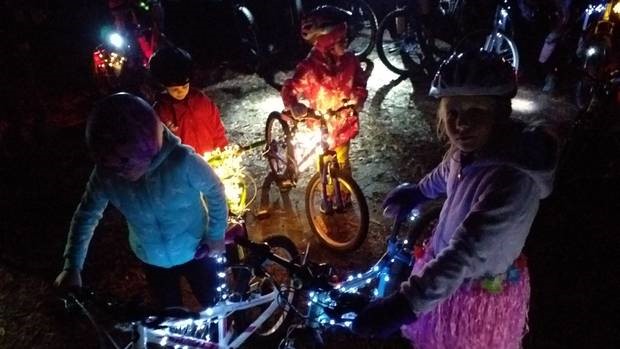 Matariki Ride - Ekengia Te Pō
Matariki Ride the Night – Ekengia te Pō is held in July during Matariki (the Maori New Year) as part of the Matariki events calendar. Participants are encouraged to decorate their bike with lights, and dress warmly to help us light up the night. This free, family friendly event is held on the Mokopuna Trail in the Redwoods Whakarewarewa Forest.
The Diwali Ride
The Diwali Ride is held during Diwali (Oct/Nov) each year, and is free and family friendly. In Hindu, Jain and Sikh religion, Diwali is known as the festival of lights and symbolises the spiritual 'victory of light over darkness, good over evil and knowledge over ignorance'. It is free, family friendly opportunity for the community to come together. Connect with others, learn about another culture and explore the local shared path trails around the CBD.