Be Bright Be Seen – winter cycling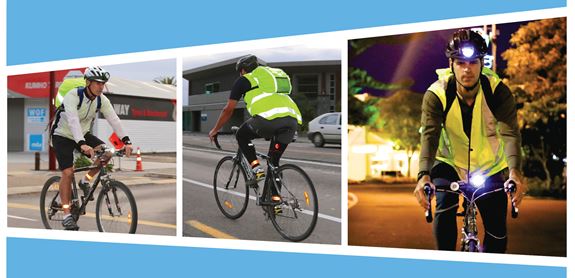 Don't hibernate! It's important to keep active to support our health and wellbeing during the winter months. Cycling and walking are a great way to do this, rug up and check out these tips to help you arrive warm, dry and safe.
Lights and reflectors
Lights and reflectors help you be seen, which is important in winter as days are shorter and sometimes dim with reduced visibility. All bikes are required by law to have a red or yellow reflector facing backwards at all times.When cycling at night or when visibility is poor, you're also required to have:
One or two yellow or white front lights that can be seen from 200m away. Only one front light may flash.
At least one rear light (must be red). Any rear light may flash.
Yellow pedal reflectors on the front and back of each pedal.
Your lights must not dazzle, confuse or distract others.
Additional tips
Visibility is especially important in winter. High vis backpack covers and vests with reflective strips create eye catching movement.
Check the weather forecast regularly and pick the best days to commute. Use the bus as your plan B – Rotorua bus routes can be found here.
Carry an additional layer of clothing (windproof vest or jacket, fresh socks etc.) as the temperature and weather varies throughout the day. Consider installing mudguards – they're a game changer, no more muddy bum! Keep on top of bike maintenance especially in wet weather. Keep your chain oiled and ensure your brakes are working well.
Make sure the lights and reflectors can be seen clearly and not accidently covered by bags or jackets.
Give yourself a high-five for choosing an active transport mode that helps both you and our planet!
If you would like to gain more confidence cycling on our roads, please email us at cycling@rotorualc.nz to attend a cycle skills course.