Rotorua recycling centre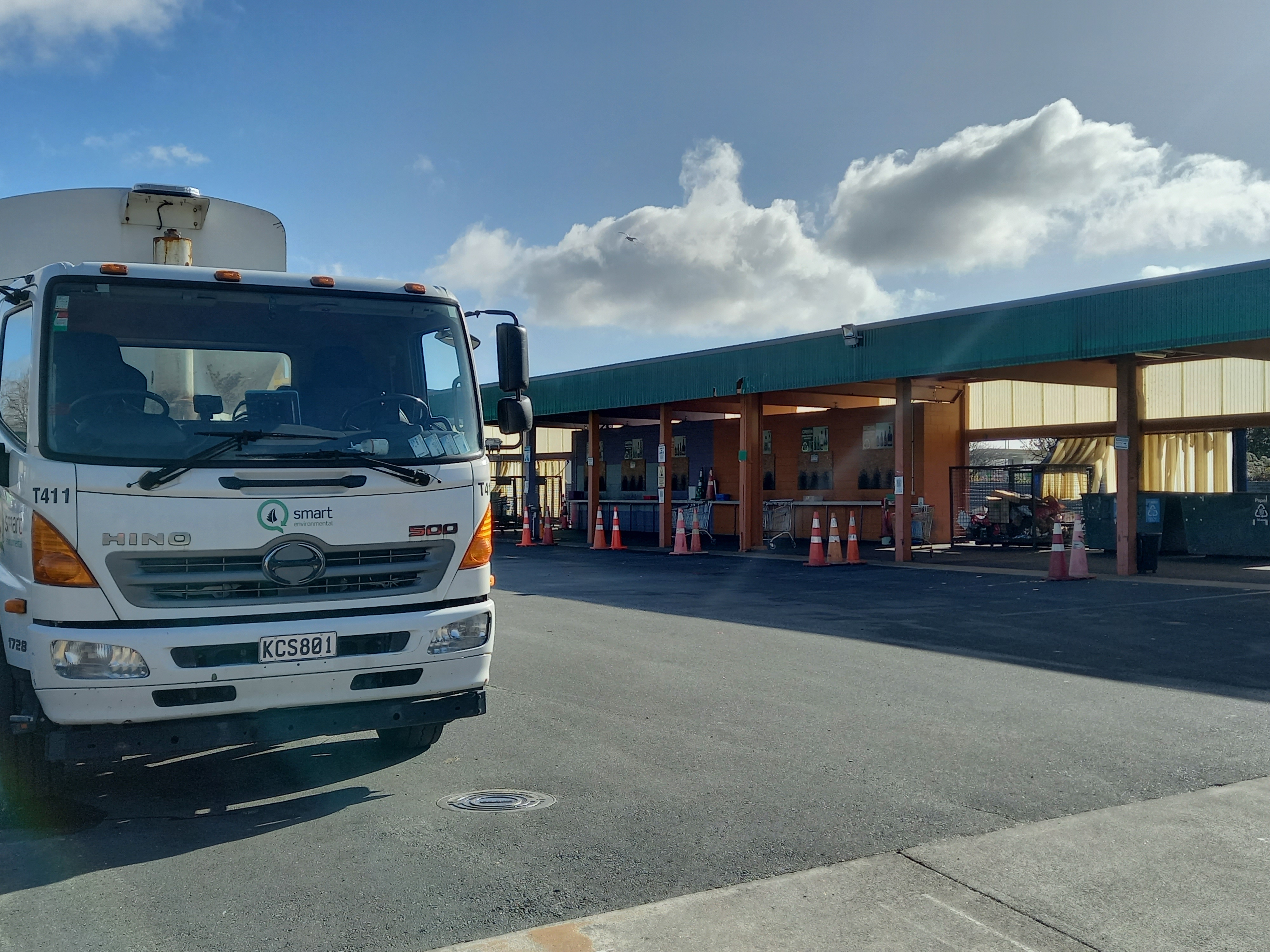 Location and opening hours
24 Te Ngae Road, Victoria, Rotorua, 3010
Monday to Saturday: 7:30am - 4:30pm
Sunday and public holidays: 9:30am - 4:30pm
Christmas Day and Good Friday: Closed
Accepted items
The following items are accepted at the Rotorua Recycling Centre. All items must be clean and dry.
Please check plastic items carefully for the plastic identification code symbol with a number in it – only plastic numbers 1, 2 and 5 are accepted at the recycling centre.
| | |
| --- | --- |
| Paper | Newspaper, magazines, envelopes, junk mail, used note paper, recycled paper, clean paper packaging and bags |
| Cardboard | Cardboard boxes and packaging, egg cartons, clean parts of a pizza box |
| Plastic #1 | Labelled with a triangle and number 1, for example clear food packaging and bottles |
| Plastic #2 | Labelled with a triangle and number 2, for example cleaning bottles, product bottles |
| Plastic #5 | Labelled with a triangle and number 5, for example ice cream containers, larger yoghurt tubs, margarine containers, other plastic tubs and containers |
| Glass jars and bottles | Clear, green or brown glass |
| Aluminium and tin cans | Clean food and drink cans |
Plastics numbered 3, 4, 6 and 7 cannot be collected in Rotorua kerbside recycling. They are much harder to recycle and their market value is low, these plastics are currently being phased out.
More information on plastics being phased out
Unaccepted items
Items that are not accepted at the recycling centre include:
| | | |
| --- | --- | --- |
| Soft plastics including plastic bags, plastic film and cling wrap, bread bags, bubble wrap, snack food wrappers | Tetrapak (longlife/almond milk packaging, pre-made stock and single serve juice packaging) | Shiny or waxed gift wrap |
| Drinking glasses, , light bulbs or windows | Empty aerosol cans (e.g. deodorant) | Fireworks |
| Wood or building materials | Plastic from appliances or toys | Polystyrene (e.g noodle containers, black meat trays or foam packaging) |
| Aluminium foil | Medical products (including blister packs) | Building paper |
| Re-usable cloth shopping bags | CD, videos and cases they come in | Garden waste |
| Clothing, shoes or fabric | Coat hangers of any kind | Crockery and ceramics |
| Disposable coffee cups | | |
This list does not cover all items not accepted at the recycling centre. If you would like to clarify if something is recyclable or not, please call 07 348 4199 to speak to someone from Council's Customer Solutions team.
Electronic recycling (e-waste)
It is important to recycle e-waste in an appropriate and environmentally friendly way. This can be done at the recycling centre where the following fees apply:
Item

Charge
(incl GST)

CRT television

$27

Plasma/LCD televisions (flat screen)

$20

CRT computer monitor

$20

LCD computer monitor

$14

Printer, scanner, fax

$7

Photocopier (large)

$60

Laptop computer

$7

Laptop battery (only) and similar

$3

Small appliances (eg stereo system, gaming console, microwave, vacuum cleaner, heater)

$7

Speakers (per unit)

$5

Modem, router, keyboard, small peripherals, mouse, UPS unit

Free

Copier toner

Free

Desktop computer (box only)

Free

Server (box only)

Free

PVC wire cables

Free

Cellphone

Free

DVD/CD/VCR player

Free
Other Recycling Charges
Item

Degassing Charges
(including GST)

Fridges and Freezers (requires degassing)

$15

LPG gas cylinders (requiring degassing)

$5
Recycling Centre staff will approach you for cash or electronic payment.
Recycling for batteries
Small batteries can currently be dropped off for recycling at Bunnings. Please do not put them in your red or yellow lid bins as they can be a fire risk. Larger batteries, for example car batteries, can be dropped to the Recycling Centre in town.
Recycling for infant and child car seats
Children's car seats can be recycled for $10 per seat, by dropping it off at the in-town Recycling Centre during normal opening hours.
Council is subsidizing $15 of the total $25 cost per seat, to recycle them through SeatSmart. SeatSmart use employees from Social Enterprise – a paid service that provides employment for people who have a disability, or are disadvantaged or marginalised. SeatSmart break down the car seats to recycle the materials, preventing re-usable resources from unnecessarily going to landfill. The cost to recycle covers collection, transportation and dismantling.
Red Cross shop
Operating at the Recycling Centre, the Red Cross Shop offers quality second-hand goods at affordable prices. People can also donate pre-loved items in a working, usable condition.
The shop accepts and sells good quality bric-a-brac, clothing and accessories, footwear, curtains, furniture, homeware, books and toys and electronic appliances. By donating or shopping with Red Cross, you are supporting our work helping people in need.