Reducing our waste
Ways to reduce your waste
The Waste Hierarchy shows the most effective ways to reduce waste output, ordered from the most to least effective.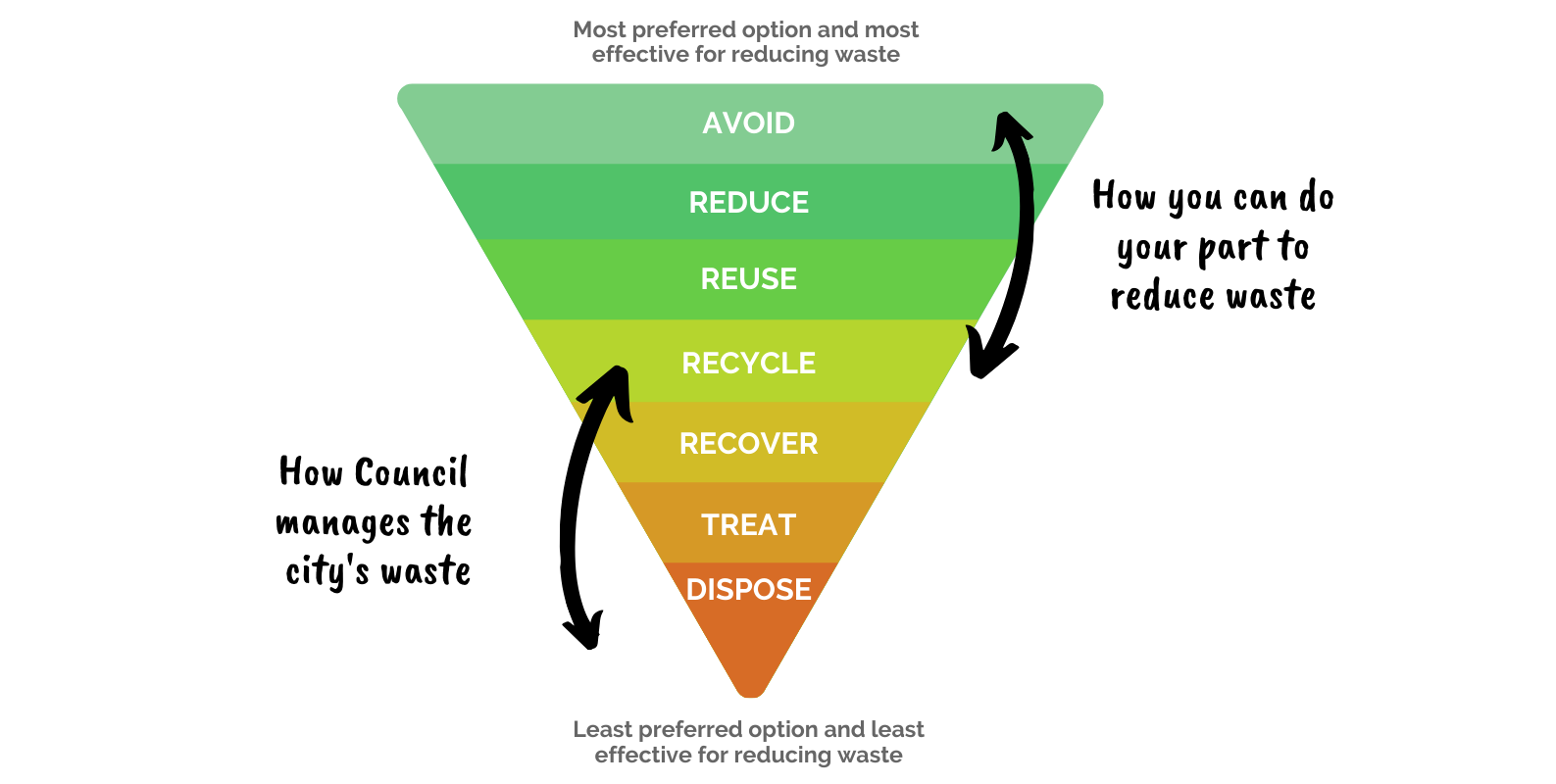 Composting
Composting is the process of organic materials breaking down into nutrient-rich soil, and re-uses the nutrients from the organic waste and can be used on gardens and vegetable gardens to feed the soil and fertilise plants. Composting is easy to do using a simple compost pile at home, at community gardens, or bigger volumes can be done in large-scale commercial composting facilities.
Organic materials break down in landfills to create methane that contributes to the climate crisis. Composting your organic waste prevents methane release into the atmosphere, while turning organic carbon into soil, reducing the impact of waste on the environment and helping to slow the effects of global warming.
Even the most low-maintenance compost systems make a difference to your waste output, and contribute to the health of our land, air and water.
Different ways to compost at home
Traditional composting
The most commonly used method that uses a compost bin or pile to dispose of organic waste. It can take between 6 weeks to a year to break down depending on how much effort you put into it, but it will also break down on its own over time.
Hot composting
The temperature in a hot compost is usually about 60-70 degrees, and is the fastest way to make compost. Hot compost can break down in as little as 6 weeks to 3 months, depending on what materials are in the pile.
Hot composting is the safest way to get rid of dairy, meat and weeds without sending it to landfill. High temperatures in hot compost can kill bacteria and pathogens, and prevent weed seeds from sprouting. Read more about hot composting in the FAQs below.
Worm farm composting or vermicomposting
Worm farming (also known as vermicomposting) is a great alternative to conventional composting for people who don't have time to maintain a compost pile, but want compost fast.
Worm farms use a special type of worm known as 'Tiger Worms' to break down the organic waste into worm casting and worm 'tea', that can be used to feed your garden. Read more about worm farm composting in the FAQs below.