Collection days and bins
Contents
How to use the service

Kerbside collection
Your red lid bin will be collected weekly from your kerbside.
Your yellow lid recycling bin and blue crate will be collected fortnightly from your kerbside.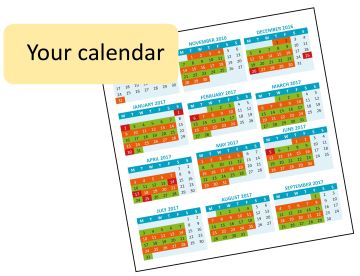 Click on the calendar to check which week your recycling collection is on. You will have either a Week 1 or Week 2 sticker on your wheelie bin which lets you know when to put your yellow and blue crate out.
Good Friday and Christmas day are the only public holidays that can change the day of your kerbside collection. Find out more about this here.
Your wheelie bin lid must be closed properly. Overfilled bins will not be collected. Any excess rubbish can be taken to the landfill. Any excess recycling or glass recycling can be taken to the recycling centre, transfer stations or the recycling section of the landfill, free of charge.
Your wheelie bin(s) must be on the kerbside by 7:30am on your collection day. This is the earliest time collection starts in residential areas, and collection routes can change. You are able to put your bin on the kerbside the night before collection.
If you own a business or live in the CBD, your bin(s) need to be on the kerbside by 5am on your collection day. You are able to put your bin on the kerbside the night before collection.
Your bin should be as close to the kerbside as possible, and should leave room for pedestrians to use the footpath. Do not put your bin in driveways or on the road. You can read more about bin placement below.
If you have any issues with your kerbside collection service, here is some information that may help.
Sorting your rubbish and recycling
What you can put into your yellow lid recycling bin:
All items must be clean and dry so they don't contaminate the other recyclables in your bin.
Paper and cardboard
Cardboard packaging
Clean pizza boxes
Egg cartons
Envelopes and junk mail
Newspaper and magazines
Aluminium and tin cans
Clean food cans
Plastics number 1 - 7
Cleaning bottles
Ice cream containers
Plastic drink bottles
Plastic milk bottles
Plastic tubs (e.g margarine containers)
Yoghurt tubs
*Although you can continue to put plastics numbered 1-7 into your kerbside recycling bin, only uncontaminated plastic items numbered 1, 2 and 5 will be recycled until onshore recycling facilities for other plastics are made available in NZ. For more information click here.
What should not go into your yellow recycling bin:
Note: This list does not include all non-recyclable items. If you need clarification on wether something is recyclable or not, please call 07 348 4199 to speak to a customer advisor.
Bubble wrap
Wood or building materials
Empty aerosol cans (e.g deodorant)
Plastic bags
Plastic film, such as cling wrap
Building paper
Batteries (these can be recycled at the recycling centre only)
CD, videos and cases they come in
Clothing or shoes
Coat hangers of any sort
Crockery and ceramics
Dead animals/pets
Drinking glasses or crockery
Electronic items
Fireworks
Food
Foil or other metal objects including machinery
Garden waste
Glass
Household applicances
Light bulbs or window glass
Liquids or food
Lithium batteries (fire hazard risk)
Medical products
Nappies
Plastic from appliances or toys
Polystyrene (e.g noodle containers, meat trays or foam packaging)
Small household appliances
Tetrapaks
Wet paper or used paper towels
Plastic Shopping Bags/plastic film
Plastic shopping bags or soft pliable plastics such as clingfilm, bubble wrap or resealable bags cannot be placed into your yellow recycling bin. They must be placed in the general rubbish bin. We are currently investigating how we can recycle plastic shopping bags. But, please check if your nearest supermarket will take your plastic shopping bags.
Batteries (AA, AAA etc)
Small batteries can be recycled at the in-town Recycling Centre only. Please do not put them in your recycling bin or your rubbish bin as they can be a fire risk.
*Polystyrene
Polystyrene cannot go in your recycling bin (this includes meat trays and types of packaging).
Please ensure your recyclables are washed before they go into your bin and remove the lids from plastic bottles. To save space, it is a good idea to squash items before putting them in the bin.
What you can put into your blue crate - glass recyclables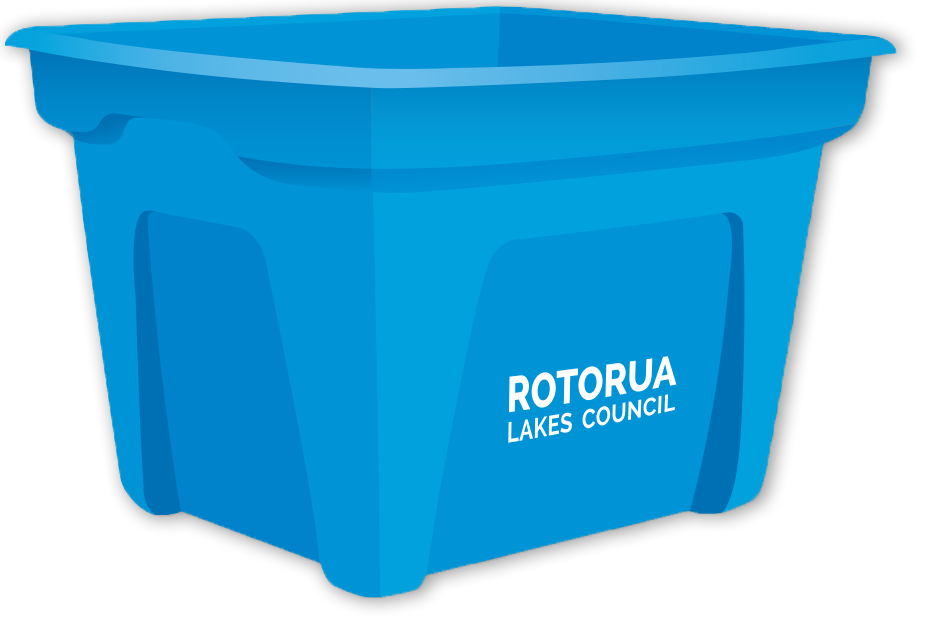 It is important to remove the tops off all bottles and jars, and clean out any food, liquid, fruit or cigarettes. Crates containing these items will not be collected from kerbside.
Brown glass bottles and jars
Clear glass bottles and jars
Green glass bottles and jars
What should not go in the blue glass recycling crate:
Broken glass
Bottle tops or jar lids
Cookware
Drinking glasses
Light bulbs
Pyrex
Window or windscreen glass
What can go into your red lid rubbish bin - household rubbish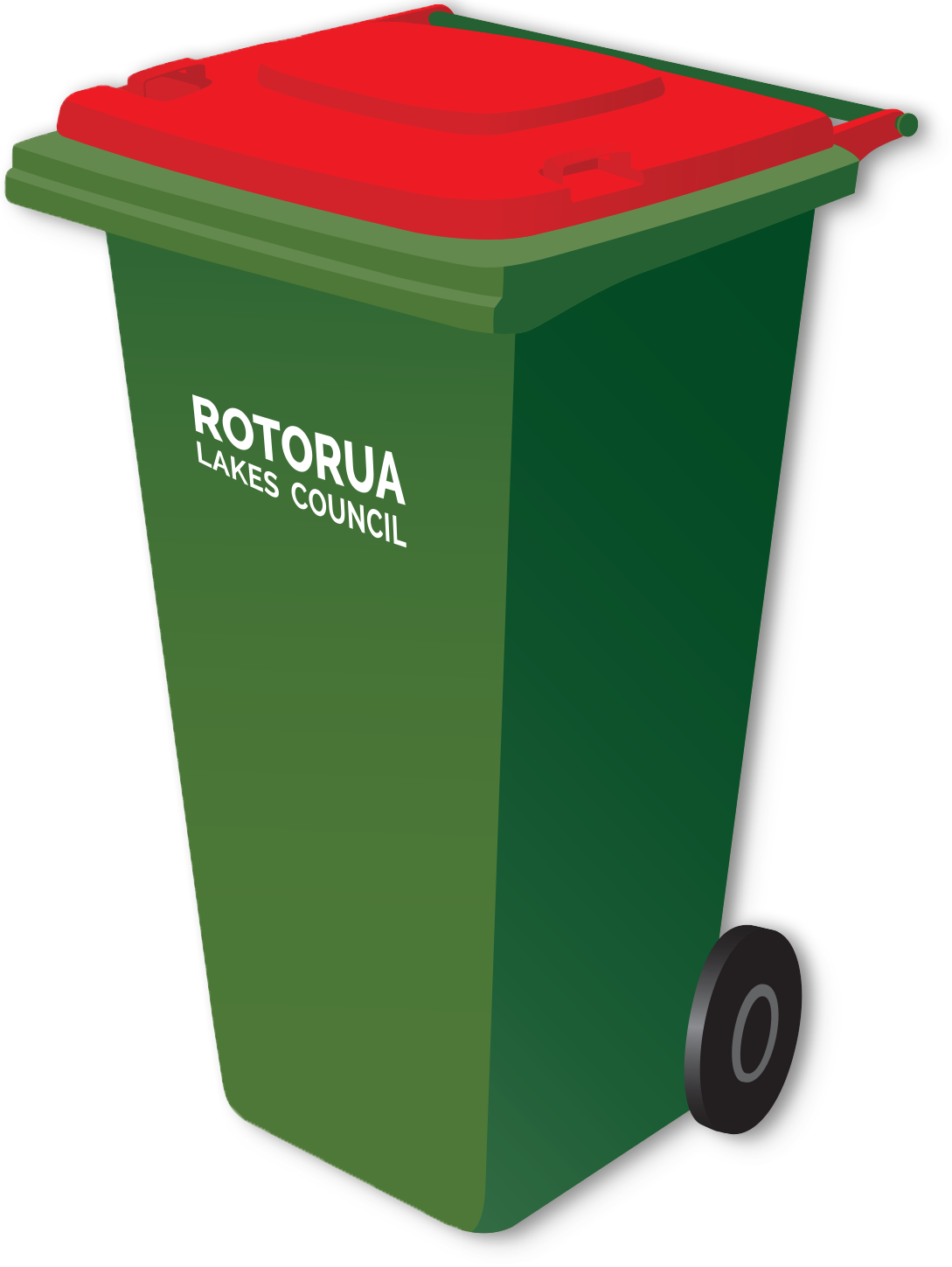 Please make sure that your bin is not overfilled, or too heavy at collection time. Disposing of heavy materials or making thebin very heavy can cause damage to the collection trucks during collection.
Here's what should not go into your red lid rubbish bin:
Automotive products (e.g car, boat or truck batteries)
Building products
Car parts
Large bits of wood/timber
Lithium batteries (fire hazard risk)
Dead animals/pets
Dry chemicals
Explosives and flammable material including gas bottles
Hazardous waste (e.g asbestos, petrol)
Hot material (e.g ashes)
Household cleaners
Liquid chemicals
Medical sharps
Paints and solvents
Bin placement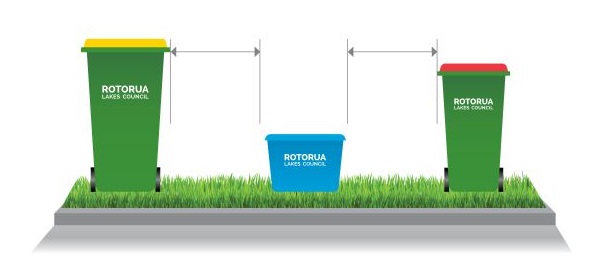 We encourage residents to place bins and crates about a half a metre apart and as close to the grass verge of the kerb to make it easier for the collection vehicle to pick them up. Please make sure the lids are closed
with the front of the bins facing the road, and away from any parked cars. Do not place bins on the road.
If you are not sure how to best place your bins kerbside, call the customer centre on 07 348 199 and they will be able to assist.
Assisted Collection Service
If you are having trouble putting out your wheelie bins each week give Council a call on 07 348 4199
(8am - 5pm Monday to Friday) and speak to a Customer Advisor. They will work with you to find a more suitable option.
What if I have additional recycling
Your recycling bin's lid must close properly to be collected from your kerbside. If you find that you regularly have more recycling than your bin can fit, you can either buy an additional 240 litre bin, or take your recycling to the recycling centre or rural transfer stations for free.
Larger / additional bins
Residents can upgrade their bins or buy more bins through the Council's contractor, Smart Environmental. For more information phone Smart Environmental on 07 346 8327 or email ro@smartenvironmental.co.nz.
You can also find out more about Smart Environmental at www.smartrotorua.com
What it will cost to upgrade your bins:
| | |
| --- | --- |
| Rubbish bin options (red lid) | Fee per annum |
| Upgrade 140 litre bin to to 240 litre bin | $136.25 (GST incl) |
| Additional 140 litre bin | $196.20 (GST incl) |
| Additional 240 litre bin | $294.30 (GST incl) |
| | |
| --- | --- |
| | |
| Recycling bin options (yellow lid) | Fee per annum |
| Additional 240 litre bin | $272.50 (GST incl) |
| | |
| --- | --- |
| Blue crate options (glass) | annum |
| Additional 40 litre crate (maximum 3 per household) | $43.60 (GST incl) |
**Smaller bins are unavailable**
Bin difficulties
Size / weight
The bins are normally light and easy to manoeuvre. Residents will be provided with big recycling bins because recycled materials tend to be lighter and take up more space.
Long / steep driveway
Feedback from across the country shows that most people cope with using their bins. Alternatively, you could house your bins in a place closer to the roadside, otherwise you could make or buy a tow bar hitch for about $15. We encourage you to use your bins for a few months, and if these suggestions do not work please call the Council.
Damaged bins
If your bin is damaged phone Council on 07 348 4199 and speak to a Customer Advisor about repairs or replacement.
Reduce your household food waste!
Rotorua Lakes Council is proud to support Love Food Hate Waste New Zealand. An organisation that is committed to reducing the household food waste problem in Aotearoa.
The average Kiwi family throws away three shopping trolleys worth of edible food each year!
If you want to learn more or find out how to reduce your household food waste visit www.lovefoodhatewaste.co.nz