Kerbside collection services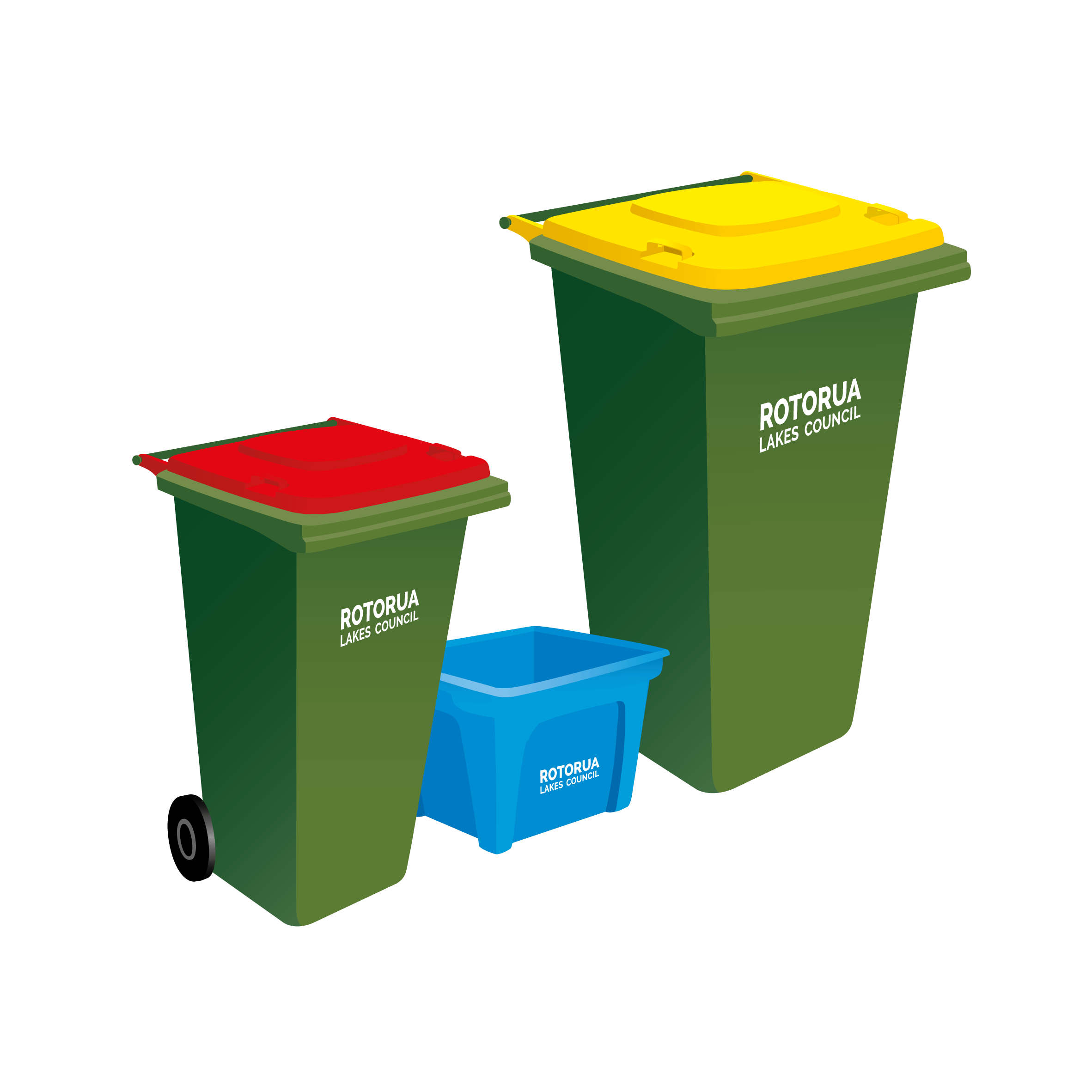 Bin placement
Your wheelie bin lid must be properly closed. Overfilled bins will not be collected because this can cause damage to the trucks during collection.
Any excess rubbish can be taken to the landfill. Excess recycling or glass recycling can be taken to the recycling centre, transfer stations or the recycling section of the landfill transfer refuse station, free of charge.
Place bins and crates as close to the kerb as possible, about half a metre apart from each other, with the front of the bins facing the road. Leave room for pedestrians to use the footpath, and do not put your bin in driveways or on the road. Please place them away from any parked cars. This makes it much easier for the collection truck to pick them up.
If you are unsure how to best place your bins or have issues with your kerbside collection space, you can call Council's Customer Solutions team on 07 348 4199 for help or advice.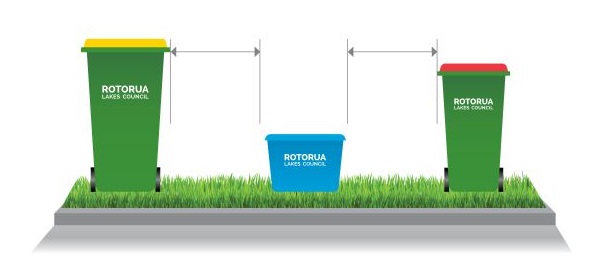 Assisted collection
Assisted collection is available for residents who have trouble putting out the wheelie bins each week. To apply or find out more information, call Council's Customer Solutions team on 07 348 4199.
Application form for assisted collection
Public holiday rubbish and recycling collections
There is no kerbside collection on Good Friday and Christmas Day. All other public holidays are normal collection days.
Good Friday 2023 – 7 April
Friday 7 April collection changes to Saturday 8 April. If your bins are normally collected on a Friday, they will be collected on the Saturday instead – just for the one week.
After that and for all other days around Easter, kerbside collection is the same as it normally would be.
Christmas Day 2023 – 25 December
As Christmas Day falls on a Monday this year, all kerbside collections are delayed by one day – just for the one week.
Monday 25 December collections will move to Tuesday 26 December,
Tuesday 26 collections will move to Wednesday 27 December,
Wednesday 27 will move to Thursday 28,
Thursday 28 will move to Friday 29 and
Friday 29 December collections will be collected on Saturday 30 December.
Kerbside collections will return to normal the following week. This service is not affected by New Years statutory holidays.
Getting help with your bins
Late or missed collections
Your bin may not be collected at the same time every week because collection routes can sometimes change. If your bin has not been collected by the end of the day, it may be because:
Bins were blocked and it was not safe to retrieve them
Bins were not put out on time (before 7.30am)
Bins were too heavy
Bins were filled inappropriately (e.g. contaminated recycling)
Bins were over-filled
If your bin was not emptied because of one of the reasons mentioned above, a sticker explaining why may be placed on your bin. You will need to remedy the issue and put your bin out for the next collection day.
The kerbside collection trucks use GPS and time-stamped video to record each collection route. If your bin was not left uncollected for any of the reasons above, you can call Council's Customer Solutions team on 07 348 4199, and they will be able to advise what the reason was.
Recycling contamination
Please do not mix rubbish and recycling. If they are combined in the yellow-lid bins, recyclable material becomes contaminated and ends up having to be taken to landfill. Collection of contaminated bins can lead to contamination of the truck load.
A warning sticker will be placed on bins that are contaminated and these will not be collected. Recycling services will stop over a period of time at homes that receive continuous warnings.
Lost, stolen or damaged bins
If your bin goes missing, check that your neighbour has not taken it by mistake. Bins have address labels on the side so you can check if someone has accidentally taken your bin. They also have wireless radio frequency identification labels, so if a bin is at a different property, it can be collected and returned to its rightful home address.
If you are unable to find your bin or the bin is damaged, contact Council on info@rotorualc.nz or 07 348 4199 and we will organise a bin repair or replacement at no cost.
Upgrade to larger bins, or get additional bins
All bin lids must close properly in order to be collected from your kerbside.
If you find that you have more household rubbish or recycling than the average Rotorua household, you can upgrade the size of your bin or get more bins to use for the kerbside service. Additional and upgraded bins are managed by Council's waste contractor Smart Environmental, and the cost of this is not included in Council's waste rate.
For more information, you can phone Smart Environmental on 07 346 8327 or email ro@smartenvironmental.co.nz. You can also find out more about Smart Environmental at www.smartrotorua.com.
Remember that additional recycling can be taken to the recycling centre or rural transfer stations for free.
What will it cost to upgrade the bins for residential properties?
| Rubbish bin options (red lid) | Fee per annum |
| --- | --- |
| Upgrade 140 litre bin to to 240 litre bin | $152.61 (GST incl) |
| Additional 140 litre bin | $329.21 (GST incl) |
| Additional 240 litre bin | $399.06 (GST incl) |
| Recycling bin options (yellow lid) | Fee per annum |
| --- | --- |
| Additional 240 litre bin | $335.72 (GST incl) |
| Glass recycling options (blue crate) | Fee per annum |
| --- | --- |
| Additional 40 litre crate (maximum 3 per household) | $48.83 (GST incl) |
Smaller sized rubbish or recycling wheelie bins are not available. However, you do not need to put your bins out every week for collection.
Moving house
Bins and crates should not be removed from their allocated property if the property is sold or the home is re-tenanted.
Bins are the property of the Council and the collections contractor. Homeowners and tenants have a responsibility to look after the bins allocated to their property.
Bin difficulties
Wheelie bins are normally light and easy to manoeuvre. Residents are provided with recycling bins larger than the rubbish bins, because recycled materials tend to be lighter but take up more space.
Feedback from across the country shows that most people cope with using their bins. If you are having trouble, you could house your bins in a place closer to the roadside, or you could make or buy a tow bar hitch for about $15. If these suggestions do not work, please call the Council on 07 348 4199 for advice.
Bin audits
Bin audits are undertaken on a regular basis to help Council identify any improvements that can be made to services to reduce the amount of waste that goes to landfills. Bin audits are also a way of educating the community about what they can and can't put in their bins and how to use the service correctly.
Councils are required by law to undertake waste audits every three years. The data collected from these audits helps to inform the future of the public waste service and guides the Waste Management and Minimisation Plan (WMMP). The WMMP must be reviewed every six years.
Resources and information
Rotorua Lakes Council can provide presentations or workshops to support groups and individuals in understanding our kerbside collection services and recycling processes. If you would like to find out more, please get in touch recycling@rotorualc.nz.