Mobile shops
Mobile food vehicles are a great way to take your food business on the road and be where the customers are.
Mobile food vehicles do not include food transport vehicles to deliver food for catering or food from a business to a retail premises for sale or for home delivery (for example, pizza delivery).
Who needs a licence
A mobile food business that conducts the following activities in Rotorua (even if licensed in another district) requires a licence from Rotorua Lakes Council:
preparing and/or selling food from a motor vehicle
mobile coffee cart
ice cream van
pie van (smoko truck)
mobile snack trucks
mobile food trailers
Registrations and licence duration
There is a two-step process in obtaining a mobile shop licence
Step 1

Registering a Food Control Plan or National Programme with your businesses home council.
For more information on the processes and procedures in registering Food Control Plans and National Programmes, please Visit the "Food Act 2014 - Options" page.

Step 2

Obtaining a mobile shop licence.
One off event, 6 month and 1 year licenses are available for mobile shops. However if you want to operate a business regularly, an annual licence is recommended for convenience. An annual licence requires only one application and fee payment to be made and you can operate your mobile shop a number of times in that year.
Trading hours
Mobile shops may trade between:
1 April to 30 September - 9am to 5.30 pm
1 October to 31 March - 8am to 7 pm
No mobile shop shall remain stationary in any street for longer than 30 minutes other than in the permitted locations listed below.
Permitted locations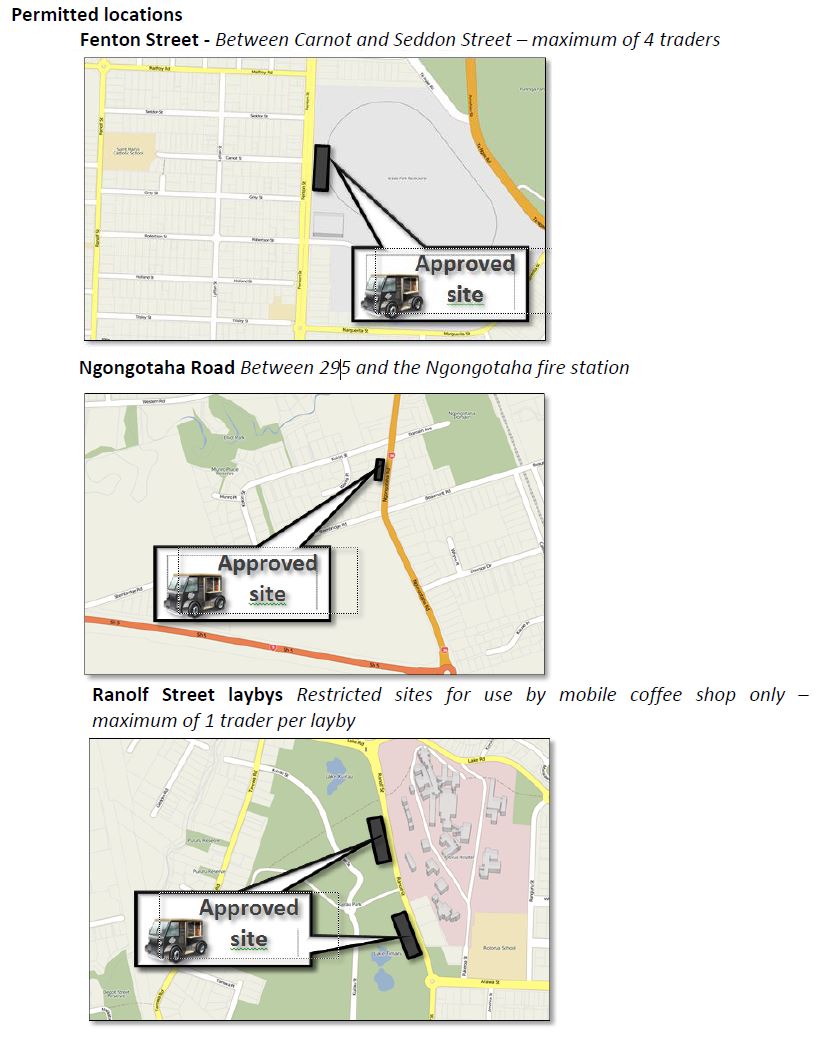 Restricted locations
No business is to be carried out on any reserve without written approval of the Sports and Recreation Manager of the Rotorua Lakes Council.
That on the grounds of likely traffic hazards, no trading is carried out within 150 metres of any CC1 (Central Business District) zoned area.
Further Information
For further information, please download council's guide for licensing mobile shops (PDF 1.6MB) or contact a licensing offer at council on 07 348 4199.