Parking system FAQs
Rotorua Lakes Council has partnered with parking technology firm i-PARK to establish a new, modern parking system in the CBD.
This change means Council can offer a modern system which will provide a range of convenient ways for people to pay for public parking in Rotorua.

What you need to know
The system uses a 'Pay by Licence Plate' model. Users enter their licence plate number and how long they wish to park.
There are multiple ways to pay - some machines accept coins but all accept credit/debit cards. Alternatively, you can use the mobile parking app PrestoPark to pay for parking. Learn more about the app on i-Park's website here.
There is no change to the electronic car charging stations or mobility parks.
i-PARK FAQs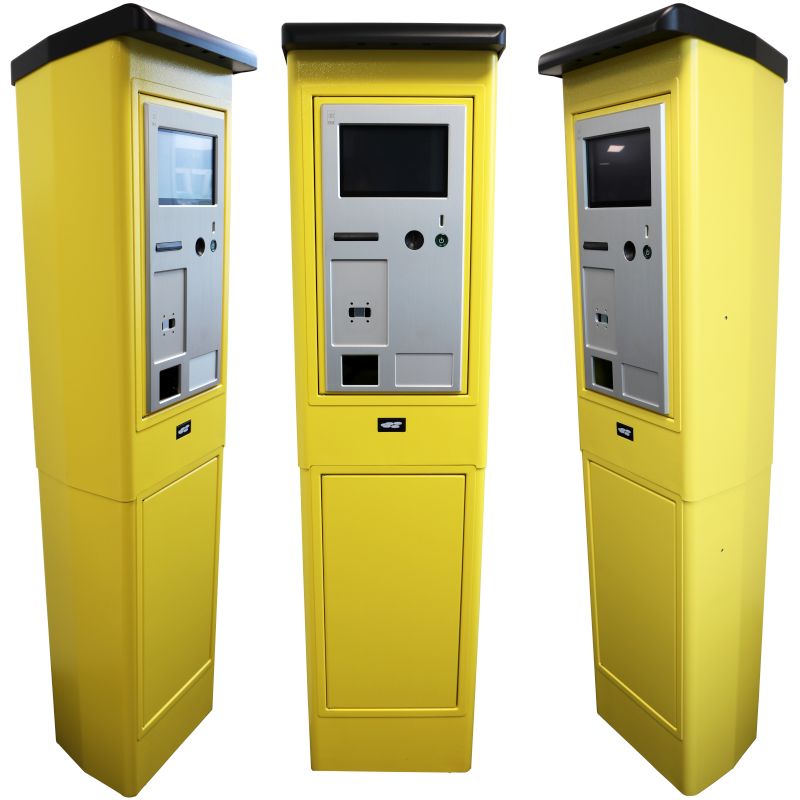 How is parking monitored?
You do not have to return to your car with a paper ticket. Wardens will determine the validity of your parking through your licence plate number. The i-Park scan car also assists in monitoring parking.
When is parking monitored?
On-street parking is enforced from 9am to 5pm Monday to Friday, and 9am to 12noon on Saturdays. It is not enforced on public holidays.
What is the parking fee structure?
| CBD Street Parking | Charges | Time Limit |
| --- | --- | --- |
| Central CBD Parking Spaces | Free | P60 (maximum 1 hour) or P15 (maximum 15 minutes) |
| Metered parking in CBD | $1 per hour | Mixture of maximum 3 hours and all day parking |
| Metered parking available on the outskirts of the central city | $1 per hour | Various time limits, P60, P90, P180, and no time limit parks |
| Metered parking in Pink Zones on outskirts of central city | $4 per day | All day |
| Unmetered parking on outskirts of CBD | Free | All day |
How will I know how long I can park for?
Check the signs you've parked between carefully to ensure you are using your parking space correctly and to avoid receiving a parking infringement. Some examples of parking signage are below.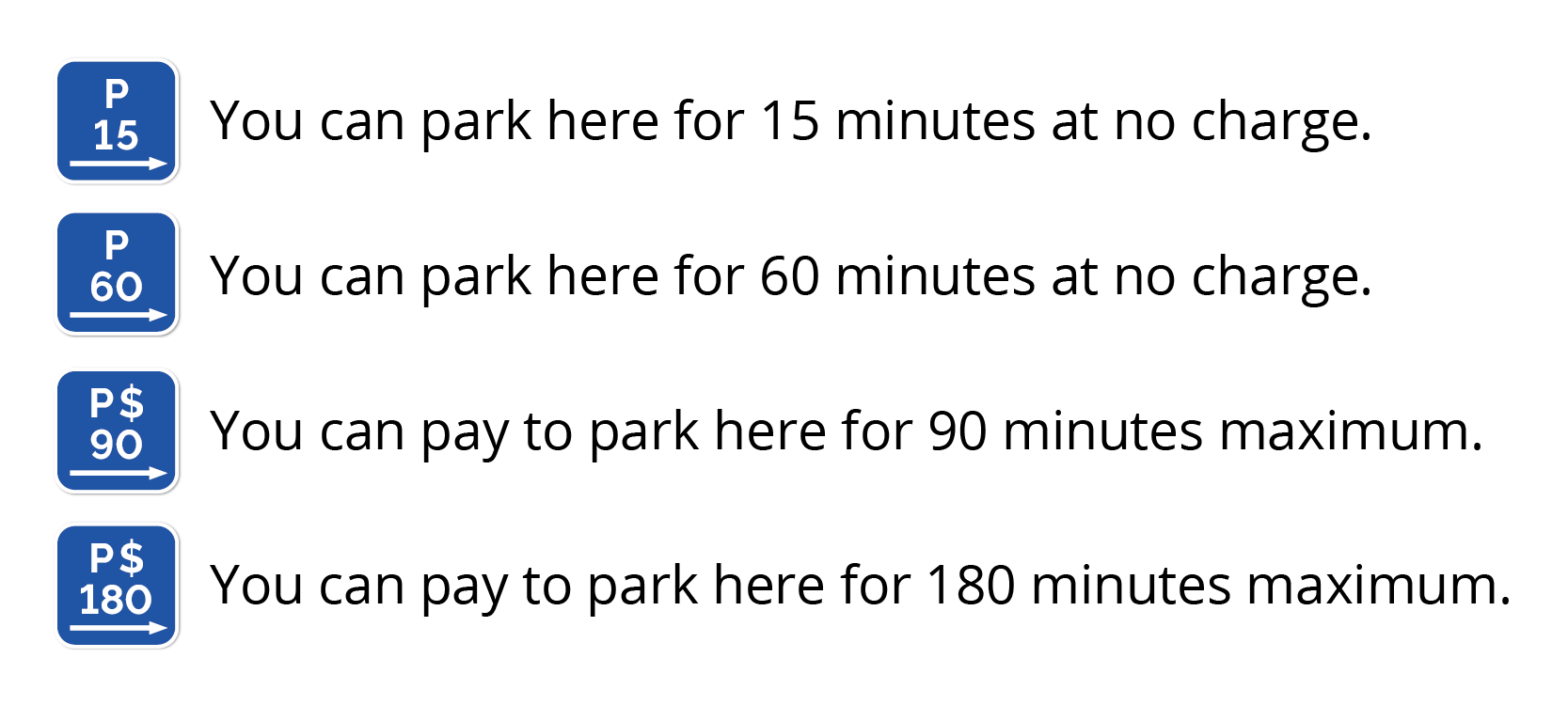 You can pay to park anywhere in this area within the maximum timeframes indicated on the signs:
How do I use the machines?
The system uses a 'Pay by Plate' model.
Enter your car's number plate into the machine and pay for the amount of time you'd like to park for.
The system is paperless and you do not need to return to your car to place a ticket on your dashboard.
You have the option of requesting a receipt via email or SMS. SMS receipts will incur a 20c fee.
How can I pay?
The machines take credit card and debit card payments and approximately half of the machines also take coins. On one side of the street there will be a machine that doesn't accept coins and on the other side there will be one that does accept coins. Machines that accept coins have a red band around their tops that reads 'Coins or Card'.
Alternatively, you can use the mobile parking app, PrestoPark, to pay for parking. Learn more about the app on i-Park's website here.
Can I get a receipt?
Yes, the system can provide you with an email receipt at no cost or a text receipt for 20c. These options will be displayed on the screen of the parking machine when you are choosing your parking payment options.
If for some reason you do not receive your requested receipt, contact Council on 07 348 4199 with your registration number, the date, time, and location of where you were parked, and we can work to send you a copy.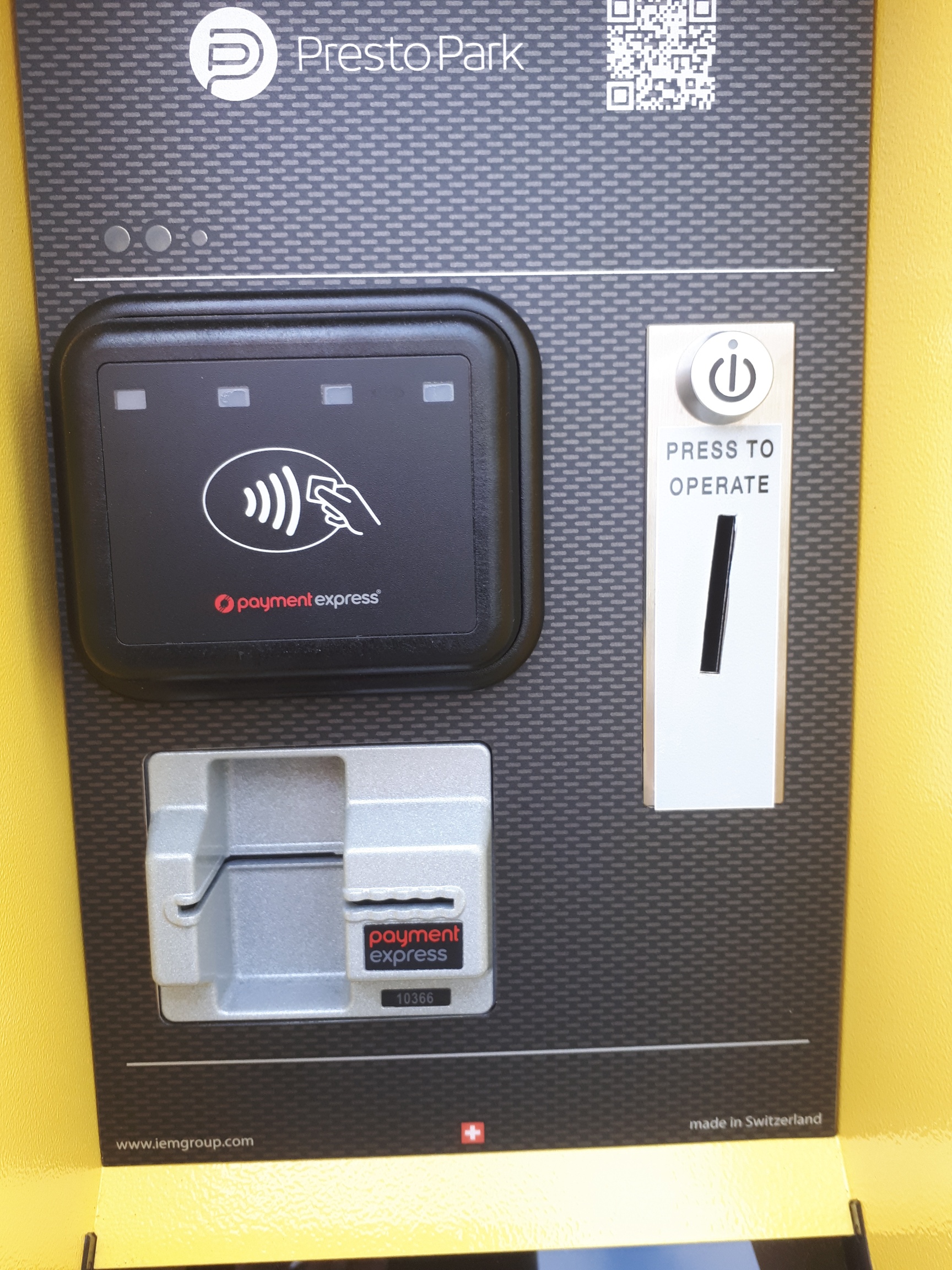 I like to use coins - can I still use them?
Parking systems throughout the country are moving away from coin payments however Council has ensured this option is still available to users.
Approximately half of the machines take coins. The minimum payment when using coins is 50c. You can use smaller change to make up the 50c.
On one side of the street there will be a machine that doesn't accept coins and on the other side there will be one that does accept coins. There will be a sign on the side of the parking machine to indicate if it's one that accepts coins. These machines will also have a red band around their tops.
If the parking machine you are at doesn't accept coins you can pay at the machine across the road - you do not need to move your car.
Insert your coins in the slot under the press to operate' button.
Why do only half of the machines take coins?
Parking systems are moving away from coin payments however Council has ensured this option is still available to users. The machines have been placed in a way that ensures a machine that accepts coins is never too far away for those that prefer to use this option of payment.
How do the Green and Blue Zones work?

The Green and Blue zones were created during the planning stages of the parking system. Having distinct zones aims to encourage targeted shopping and visiting habits, which is the same reason we have different time limits in different parts of town.
The zones help to reduce traffic congestion across the city caused by vehicles circling a wider area looking for car parks and encourages foot traffic, which in turn better supports inner city businesses.
The zones also allow someone shopping in a particular zone to shift their vehicle to a new carpark, in the same zone, under a current payment, without having to pay again. If in a time limited parking area, they must however move to a new parking space between two different parking signs and adhere to the maximum time limit stated on the signs. Our parking app is a great way to have increased visibility of the size of the zone you are parked in.
The free P60 parking in the centre of the CBD has remained to ensure convenience for short stays and to allow customers easy access to either side of town. The use and practicality of the zones is monitored as part of our continuous improvement approach and in line with Council's Parking Policy.
The machine I'm at doesn't seem to be working. What should I do?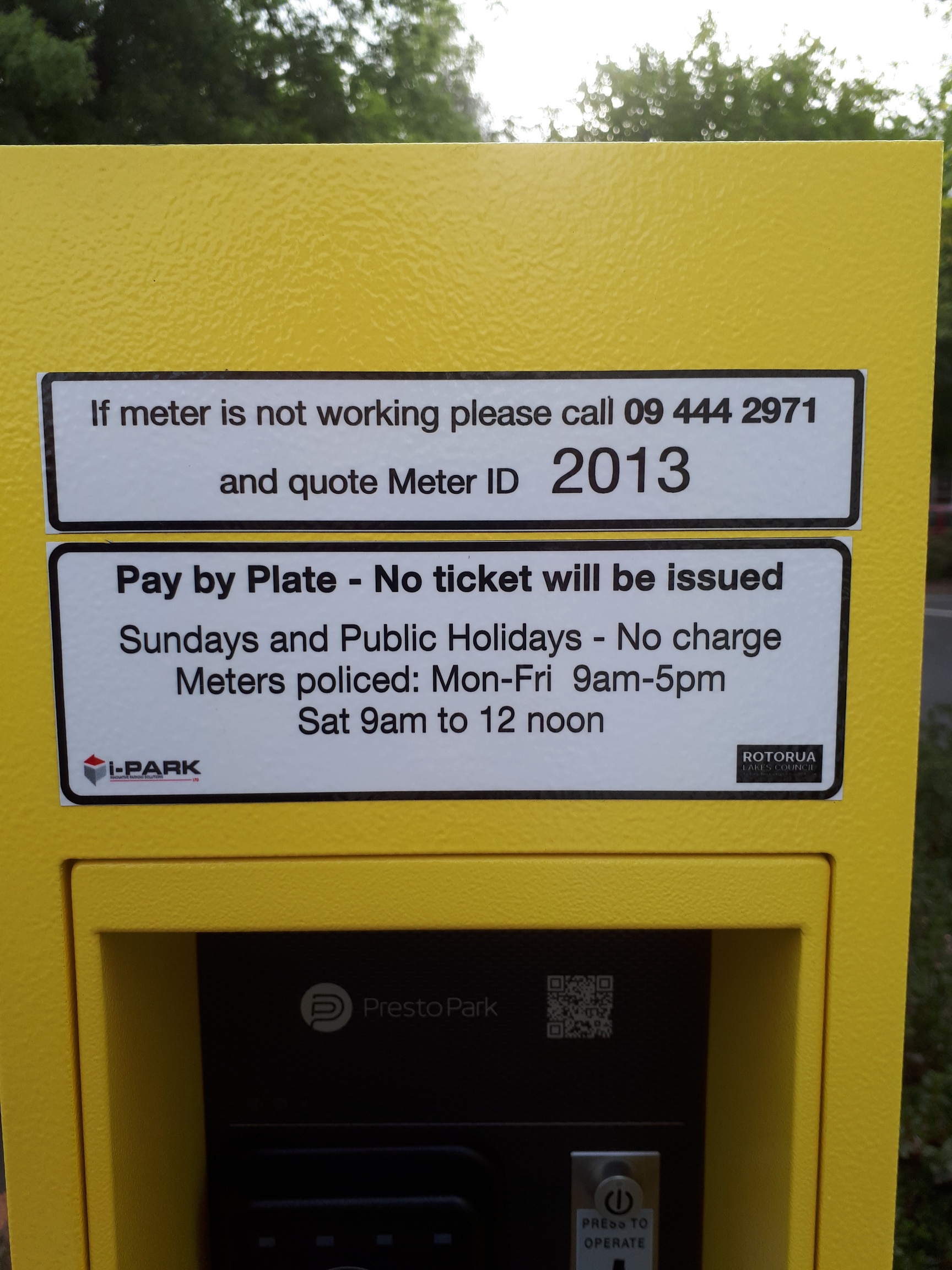 If the machine you're trying to pay at doesn't seem to be working, call the number listed on the machine and quote the Meter ID as shown in this photo.
What about the parking building on Pukuatua Street? How will that work?
In 2020, Rotorua Lakes Council and i-Park upgraded the Pukuatua Street Carpark Building's management system and equipment. This has included new long to medium term parking options, number plate recognition systems, automatic entry and exit barrier arms, new payment machines and a new ticket-less system for users.
The purpose of the upgrade is to provide a more efficient and cost-effective parking solution for CBD workers and visitors.
Learn about the parking building's parking options
What about motorcyclists, do they need to pay for parking?
Yes motorcyclists need to pay to park in both dedicated motorcycle parks and when parking in regular car parks within metered parking zones.
Motorcyclists will need to use the Pay by Plate system in the same way that cars do, and adhere to any stated time restrictions. Motorcyclists also need to pay to park in the Pukuatua St Parking building.
What are the parking fees?
Council is responsible for setting the parking rates and the parking tariff is currently $1 per hour. The machines do however have a minimum payment of $0.50 (smaller change can be used to make up the 50c). Like other services, using a debit/credit card will also attract a fee of $0.50. However, eftpos cards cannot be used.
What does the $0.50 fee for using my debit/credit card cover?
Using a debit or credit card to make your payment is an option we have provided for users for added convenience. The cost of using this type of payment is $0.50. Paying for parking with coins is still a readily available option throughout the inner city. Alternatively, you can use the mobile parking app PrestoPark to pay for parking. Learn more about the app on i-Park's website here.
The 50c fee for using a debit or credit card covers the cost of providing the card reader technology, the integration of the technology and on-going maintenance of the card reader technology, as well as the bank transaction fee. This fee is aligned with bank rules around setting surcharges, so long as the customer is notified of the fee. Notification of this fee is displayed on the parking machine screens when choosing your parking time and payment options. Additionally, if you press the information icon on the screen (this is the button with an 'i' on it) this will display more information about the cost of parking and related fees.
The global trend for parking is towards cashless solutions and the charging of a fixed transaction fee ($0.50 is standard across New Zealand) is industry practice.
With the current fee of $0.50 per card transaction, and current use of parking, it will still take 3.5 - 4 years just to recover the cost of investing in card capability, excluding the cost of failures, changes in banking regulations, and changes in technology requirements and regulations. The reality is that it is more expensive to provide this payment option.
Council will continue to monitor and review this system as per its eight year contract with i-PARK.
Why can't I use my eftpos card?
Providing the option to pay by eftpos would be significantly more expensive, both to provide and operate, and that the technology supporting eftpos payments is not as secure for unattended payments, or robust in outdoor environments and when used incorrectly.
The current card payment system is consistent with similar parking solutions throughout New Zealand and all over the world, and offers convenience and security for parking service users in the city.
What is a parking 'tariff'?
A tariff is the amount of money it costs to park in a certain area. For example our current parking tariff is $1 per hour.
What about mobility park users?

Mobility card holders can use dedicated mobility spaces for as long as they want without paying. All other car parks can be used by mobility card holders, without paying, for double the amount of time specified (except P15 spaces which are limited to the time frames specified and are intended for quick pick up and drop offs). If no time limit is specified, mobility card holders may park in this space for as long as they require without having to pay. Ensure that your valid mobility permit is clearly displayed. Parking wardens monitor the mobility parking spaces to ensure vehicles have valid mobility permits.
Why did Council change its parking services?
The demand for parking will continue to increase and predicted economic and population growth in Rotorua will continue to expand this need.
Council upgraded the parking system to provide an effective, modern, and cost-efficient service to the community. The parking system improves consistency of service across the city and improves turnover of parking spaces so that car parks are less difficult to find. This in turn supports local businesses who have struggled in the past with patrons being unable to locate a car park outside of their business due to cars being parked in free parking spaces all day.
The previous parking system used obsolete coin-operated meters that were expensive to operate and maintain, as well as being labour-intensive to monitor. This dated technology contributed to low enforcement rates and lost revenue.
Why have parking restrictions?
Successful urban centres depend heavily on the availability of well-operated and demand-balanced parking facilities.
Restrictions enable the fair rationing of limited spaces to give everyone equal access to wherever they want to go.
Enforcement ensures parking spaces are managed for the collective good of residents, businesses and visitors, ensuring equity, minimising abuse of restrictions such as time limits, safety provisions and designated spaces (eg, disability and delivery parking).
What is the benefit to ratepayers?
It is the responsibility of i-Park to keep the services operational and to deliver the services as per its agreement with the Council. Council did not need to pay an estimated $2 million to modernise and invest in technology and the maintenance, operation and upkeep of that technology.
Revenue collection will improve through better compliance because the technology allows more consistent, and efficient and effective enforcement options.
i-Park is responsible for managing, operating and maintaining the specialist technology, which means Council funds can be directed to other community services.
How was the decision made?
A wide range of options were tested through a systematic process which involved early market involvement of the specialist parking services sector. The possible options were carefully analysed. This was followed by a staged procurement programme to identify the most suitable specialist parking services partner.
In December 2017 Council approved awarding the contract to manage all parking services within the Rotorua District to Auckland-based Harding Traffic Limited. The Chief Executive was delegated the authority to negotiate the final terms of a contract.
How does the contract work?
i-Park will be paid a monthly fee to provide parking services on behalf of Rotorua Lakes Council.
i-Park will invest in the new parking infrastructure that will replace current meters and pay-and-display technology.
Council will receive the parking revenue and will continue to set the policy including the prices for parking.
Tell me more about i-Park
Auckland-based New Zealand owned and operated Harding Traffic is a specialist Intelligent Traffic Management company within the traffic industry and engaged in the parking services procurement process with Rotorua Lakes Council. i-Park (Innovative Parking Solutions Ltd) is a sister company.
Harding focuses on the assembly, supply and installation of intelligent traffic management systems while i-Park focuses on delivering services.
Harding installed the technical solution, but i-Park is responsible for service delivery and the operation of the system.
i-Park terminals are state of the art and are offered with touch screen capability.
i-Park also provides specialist licence plate-recognition parking enforcement software that interfaces with the parking terminals and other systems and manages the enforcement process. It provides a seamless interface with the Ministry of Justice e-filing system and with New Zealand Transport Agency vehicle registry. It also provides an online portal for anyone needing to view, pay or request further consideration of an infringement.
This level of solution makes the service as efficient as possible therefore enabling i-Park to offer the solution as cost-effectively as possible to the Council.
Do other Councils charge for public parking?
Yes. There is a range of systems operating around the country including pay by plate, pay by space and pay-and-display. Free parking and some paid parking is generally time limited, after which an infringement will be issued.