Waste to landfill

Kilograms of waste to landfill per person, per week
View this page as a printable PDF (169KB)
Purpose of indicator
Waste to landfill includes household, commercial and industrial rubbish that is disposed of to Rotorua's landfill. The amount of rubbish disposed of is reported per person, per week, divided by Rotorua's population. It reflects pressure on the landfill and its surrounding natural environment. The breakdown components of waste within landfills can have a harmful effect on the natural environment and its ecosystems if it is not managed properly.
Current information and trend
Kilograms of solid waste to landfill per person has more than halved from 1996 to 2011 as shown in figure 1. From 2007 to 2011 the trend continues with a decrease of almost 7 kilograms per person per year. An increase in household and commercial recycling has contributed to less waste being disposed of to landfill. The recent economic climate has also resulted in less waste produced, especially from the building (construction and demolition) industry. Figure 2 shows waste diverted from landfill (materials recycled) peaked in 2007 and has since decreased. Most of the decrease can be attributed to less heavy materials from construction and demolition being disposed of.
The sources of waste to landfill include industrial/commercial/institutional (43%), residential (21%), special (25%) and landscaping/earthworks/cleanfill (6%). Special waste' includes wastewater treatment sludge, road sweepings, and cesspit sludges. Figure 3 shows the percentage which these sources contributed to landfill in 2009. In 2012 these figures are expected to be much the same, however, most of the sludge from the Wastewater Treatment Plant is now being disposed of via a worm farm in Kawerau for composting (vermicasting). This will lower the overall amount of waste to landfill, but particularly the component made up of special waste.
Whilst the majority of waste is disposed of to landfill, illegal dumping and illegal landfills occur through out the district. Both regional and district councils' compliance officers monitor for this type of activity and take enforcement action when necessary.
Rotorua District Council is responsible for waste management under the Waste Minimisation Act 2008. The Rotorua Waste Minimisation Strategy 2010 includes the following:
Waste reduction through education, information brochures, internet resources, and providing support for commerce and industry through the Cleaner Production Programme.
Re-use and Recycle is promoted by recycling drop-off centres in town, at Rotorua's (Atiamuri) Landfill and at rural transfer stations. The landfill also has a concrete crushing facility and a whiteware, scrap metal, tyres, timber, paint, greenwaste and vehicle recycling/ separation area.
Recovery involves extracting materials or energy from waste. Greenwaste is shredded and mulched. Approximately 5% of sludge from the Wastewater Treatment Plant is currently being disposed of to landfill with the bulk being diverted to Kawerau for vermicast trialling. The Waste 2 Gold Programme, renamed TERAXTM, has been working towards using organic waste such as the sludge, for production of ethanol to dose the treatment plant, and other useful products such as biofuel and cleaning products.
Treatment and disposal of residual waste is provided for via weekly refuse collections from urban areas and twice weekly collections from the Rotorua Central Business District. Four transfer stations are located at Mamaku, Reporoa, Tarawera and Okere.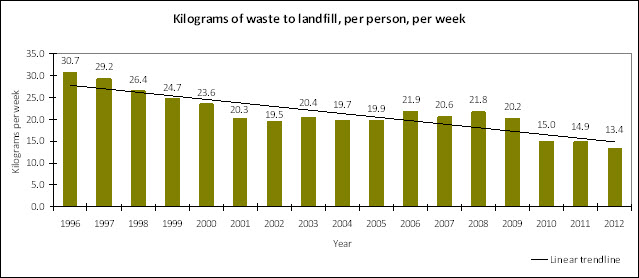 Figure 1
Source: Rotorua District Council, 2012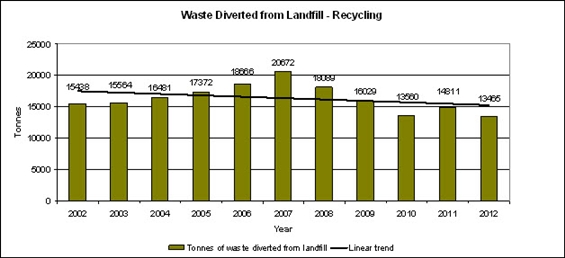 Figure 2
Source: Rotorua District Council, 2012
Figure 3
Source: Analysis of Solid Waste at Rotorua Landfill 2009, WasteNot Consulting
In summary:
Kilograms of solid waste to landfill have more than halved from 1996 to 2012.
Recently there has been less construction and demolition waste contributing to the waste stream.
In 2009 the greatest contributor of waste to landfill (measured in tonnes) was from commercial/ industrial/institutional sources
Vermicasting sewage sludge is currently being trialled and has resulted in a large reduction of sludge being disposed of to the waste stream.
A more sustainable solution for bio solids, such as sludge from the Wastewater Treatment Plant, is the TERAXTM system that is designed to process organic matter and recycle carbon and nutrients.