Visitor nights

Number of visitor nights and visitor expenditure
Number of visitors to Rotorua i-Site
View this page as a printable pdf (209KB)
Purpose of indicator
Tourism is a major economic contributor to Rotorua's economy. Visitors have an expectation of a clean, green' environment and at the same time visitor numbers impact on the environment in producing waste, wastewater, and from increased use of recreational areas and lakes for example. Monitoring visitor numbers helps in planning for infrastructure capacity to minimise environmental impacts. Tourism has the potential to be environmentally sustainable, and at the same time grow Rotorua's economy.
Current information and trend
Visitor nights from 2007 to 2010 have remained stable, as has visitor expenditure, both shown in figure 1. The Christchurch earthquakes in 2010 and 2011 saw evacuees moving to other places in New Zealand to stay with family and friends, including Rotorua. Some relocated permanently while others stayed days, weeks or months before returning to Christchurch or moving elsewhere.
Figure 1
Source: Ministry of Economic Development, 2011
Note: updated figures to 2012 were not available at the time of writing
Christchurch 's earthquakes also affected international visitor markets. Some organised tours to New Zealand were cancelled resulting in a decrease in international visitors to Rotorua for a short period following the earthquakes. However, a number of conferences scheduled for Christchurch relocated to Rotorua, increasing commercial market visitors, and somewhat balancing out total visitor numbers.
Rotorua International Stadium hosted two Rugby World Cup games in 2011. Before, during and following the Rugby World Cup season, Rotorua saw an increase in international visitors. These figures are not reflected in figure 1 as the World Cup took place following the 2010/11 financial year, and will therefore be reported on in future reports.
As shown in figure 2, at any one time Rotorua's population consists of between 13% and 14% visitors. Most of these visitors are from domestic origins and stay an average of 2.3 nights. International visitors stay an average of 2.1 nights. Almost 80% of Rotorua's visitors travel here for a holiday, while approximately 10% visit friends and relatives (Rotorua Regional Monitor 2011). In 2011 almost 75% of international visitors came to Rotorua to see geothermal attractions, and 42% to experience geothermal hot pools (Destination Rotorua Marketing, 2011). The top three most important expectations of visitors were to experience Rotorua's beautiful scenery (45%), to be a relaxing place to visit (37%), and to have adventure and excitement (28%). In 2011, 25% of visitors surveyed attended a Maori cultural experience (Rotorua Regional Monitor 2011).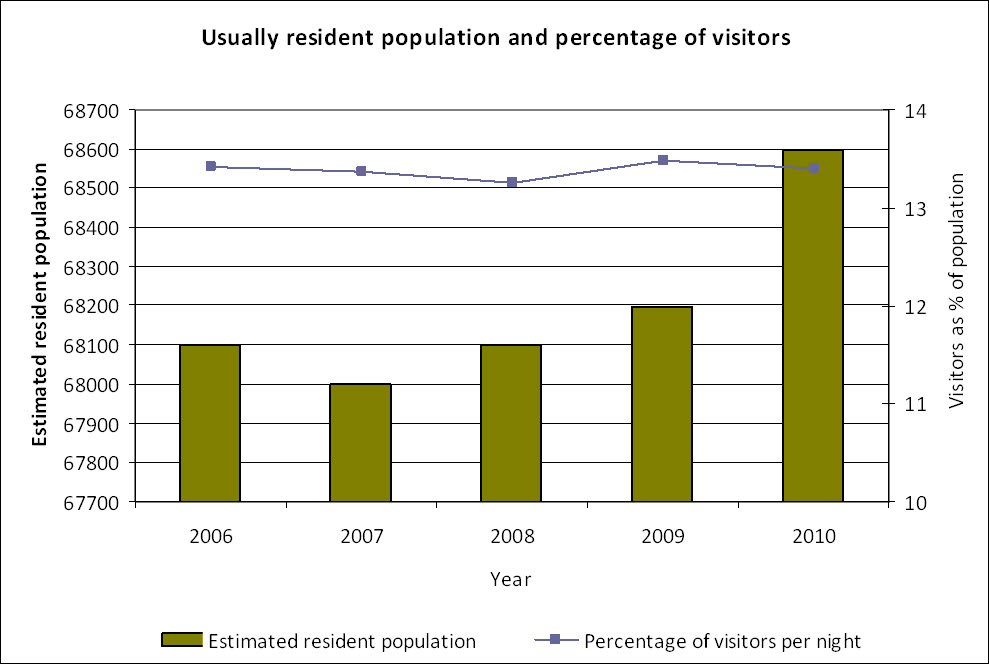 Figure 2.
Source: Statistics New Zealand, 2011 and Ministry of Economic Development, 2011
Note: updated figures to 2012 were not available at the time of writing
Figure 3
Source: Rotorua i-Site, 2011
The Rotorua i-Site is the busiest in the country, usually seeing over 900,000 visitors each year (figure 3). During 2010/2011 visitor numbers to the i-Site were unusually low due to the slowdown in tourism and travel following the Christchurch earthquakes. During 2011/2012 this number may increase to more normal numbers.
Visitor nights and visitor expenditure have remained stable during 2007 to 2010
The Christchurch earthquakes resulted in fewer international visitors but more domestic visitors, in particular for conferences and events, balancing out overall figures
Rugby World Cup 2011 season saw an increase in international visitors to Rotorua
Rotorua's population is made up of ~13-14% visitors at any one time
Most visitors are domestic travellers and stay an average of 2.3 nights during their visit
International visitors stay an average of 2.1 nights
The most important expectations for visitors were beautiful scenery, a relaxing place to visit and to have adventure and excitement
The Rotorua i-Site is the busiest in the country and sees on average over 900,000 visitors each year
There were over 65 members belonging to the Rotorua Sustainable Charter in 2011