Rural Subdivision

Number of subdivision resource consents granted in rural zones
Number of new lots created in rural zones (with RMA section 224 approval)
Number of potential lots in rural zones (pending RMA section224 approval)
View this page as a PDF(370 KB)
Purpose of indicator
Rural land is a finite resource and is the only zone getting smaller as land on the urban fringe is rezoned from rural to residential. This can threaten the available area of productive soils, usable lots and rural amenity, and create issues such as reverse sensitivity. Monitoring trends in rural subdivision helps to identify a number of trends and issues including these.
In the past density has been reported using dwelling counts and lot sizes. Due to the unavailability of census dwelling counts data in 2011 this measure is unable to be reported in 2012 reporting timeframes. However, it will be reported in future once census 2013 data becomes available.
Current information and trend
In recent years there has been a decline in the number of subdivision applications and number of new lots in the rural zones (figures 1 and 2). This trend is not exclusive to rural zones, but rather is a general trend observed throughout the district. The reason for this is believed to be influences of the economic climate and resulting market forces.
Figure 1 shows 2006/07 had the highest number of subdivisions granted in rural zones, with a dip in 2007/08. The higher number of consents granted during 2006/07 can be attributed to the introduction of development contributions policy which caused a rush of applications and consequently fewer applications in 2007/08. The Number of consents granted increased to almost the same as 2006/07, with numbers dropping annually from 2009/10 to 2011/12. This latest decreasing trend is attributed to the economic climate.
Over the period of 2006/07 to 2011/12 there were a total of 179 potential lots created in rural zones. Of these 120 gained Section 224 approval and 59 remain potential lots.
A period of five years is deliberately shown as granted consents must be given effect to within eight years of being granted or the consent is considered to be lapsed. To give effect' to a subdivision consent means that a section 223 certificate must be lodged, then within another 3 years a section 224 certificate must be attained. Table 1 details what is needed for s223 and s224 approval. Most subdivision consents apply for s223 and s224 approval at the same time as it is less costly and more efficient to do so.

Table 1
Source: Resource Management Act 1991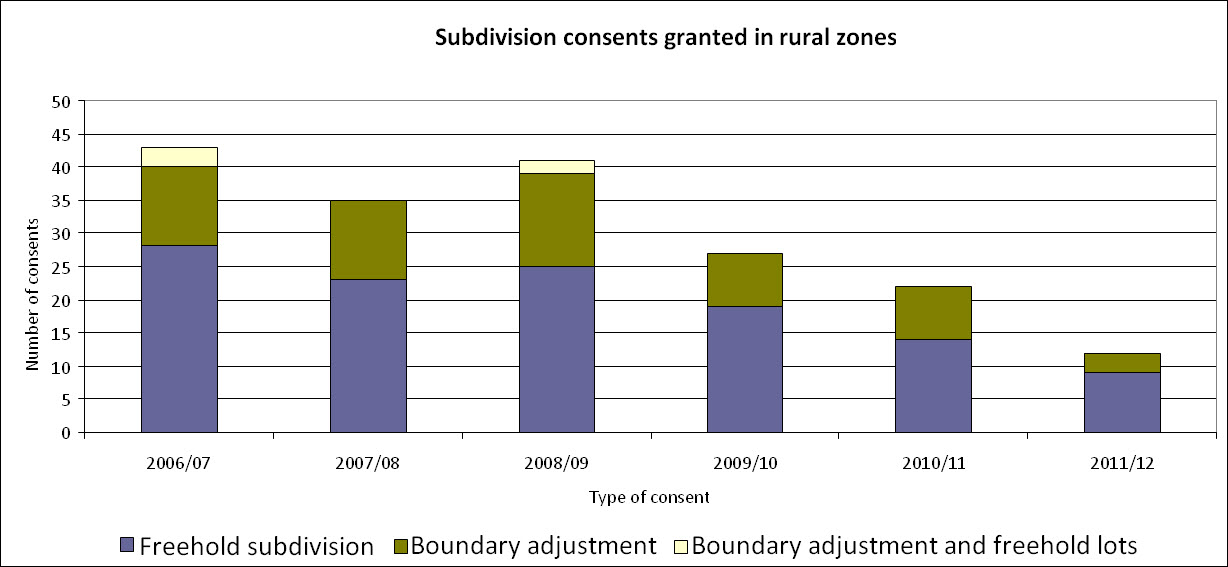 Figure 1
Source: Rotorua Lakes Council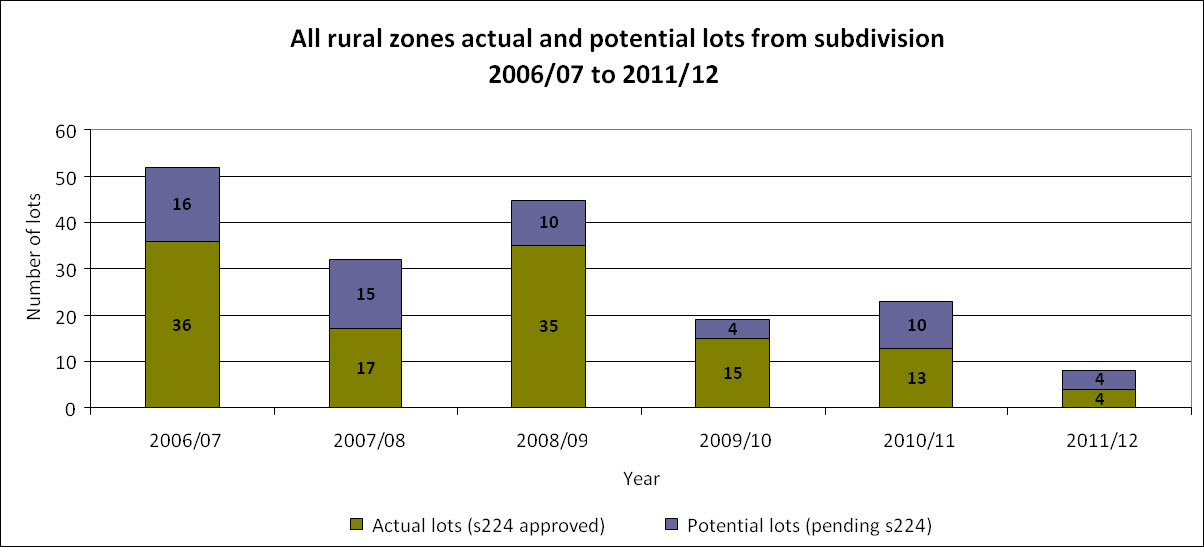 Figure 2
Source: Rotorua Lakes Council
The majority of subdivision consents was in the Rural A Zone (figure 3) and Rural B Zone. A small number were in the Rural D and E zones (figure 4). The small numbers in Rural B Zone are due to the limited potential for subdivision as most lots have reached their minimum lot size, and the remainder of land is Maori owned land which cannot be subdivided other than through the Maori Land Court. Rural D zone (figure 3) covers outlying communities of the rural area such Reporoa and Mamaku. It is likely this zone has shown small numbers of subdivision as market demand is low due to their distance from Rotorua CBD and increased fuel prices. Table 1 shows all rural zones of the Operative Rotorua District Plan and a description of their intent.
While the Rural A zone comprises the biggest area in the district (74% of the district) it is has a low population density, and the second highest number of new lots granted, second only to Residential B Zone. However, in the Rural A Zone new lots generally comprise lifestyle lots (up to 6 hectares) and general lots (greater that 15 hectares), where as lot sizes in Residential B zone are smaller, with a minimum average lot size of 450m2. Lot sizes in the rural zone aim to ensure land is retained in large enough lots to allow flexibility of rural uses in the future while allowing a set number of lifestyle lots within the working rural environment.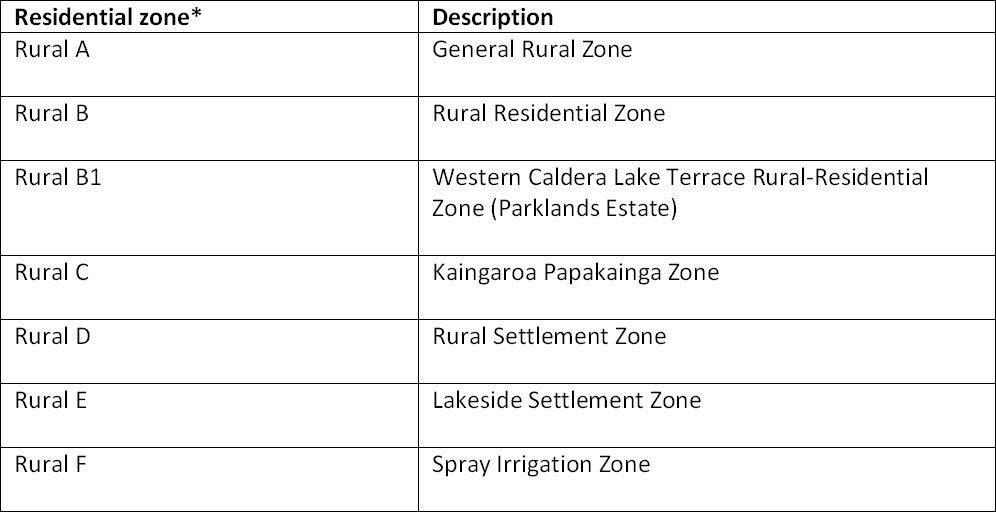 *These are rural zones of the Operative Rotorua District Plan.
Table 2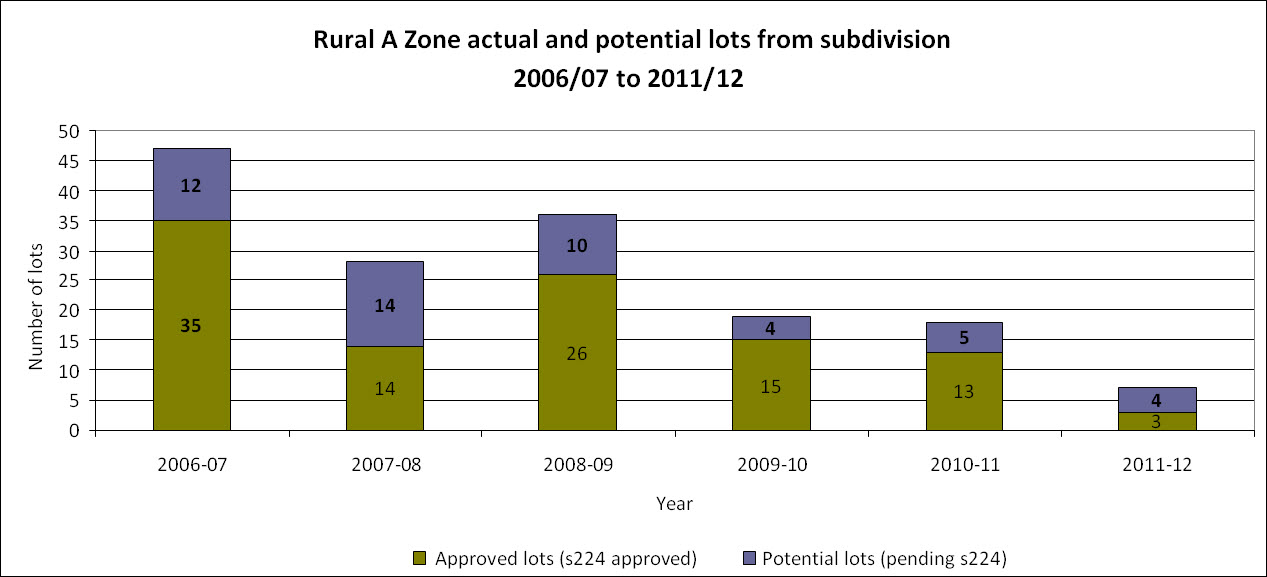 Figure 3
Source: Rotorua Lakes Council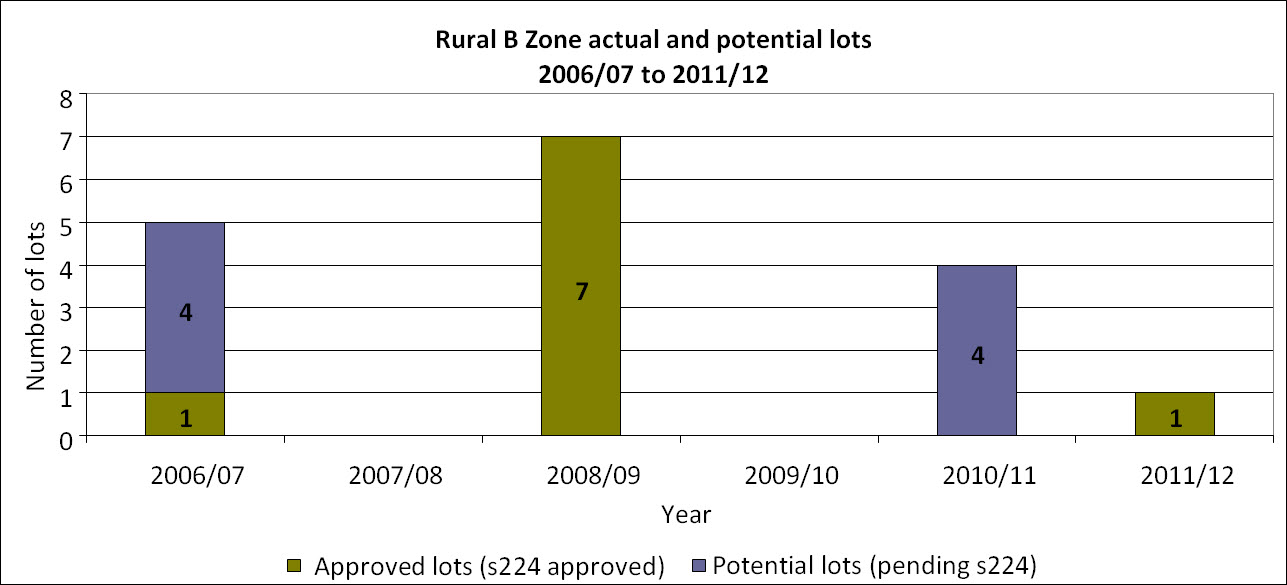 Figure 4
Source: Rotorua Lakes Council
The table below shows issues identified in the rural zones for the review of the Operative Rotorua District Plan, and how these issues were addressed in the Proposed Rotorua District Plan.
Table 3
While minimum lot sizes and areas of usable land have been revised, of all the provisions in the proposed district plan listed in table 2, transferable development rights are the most significant change to proposed district plan rules for subdivision in there rural area.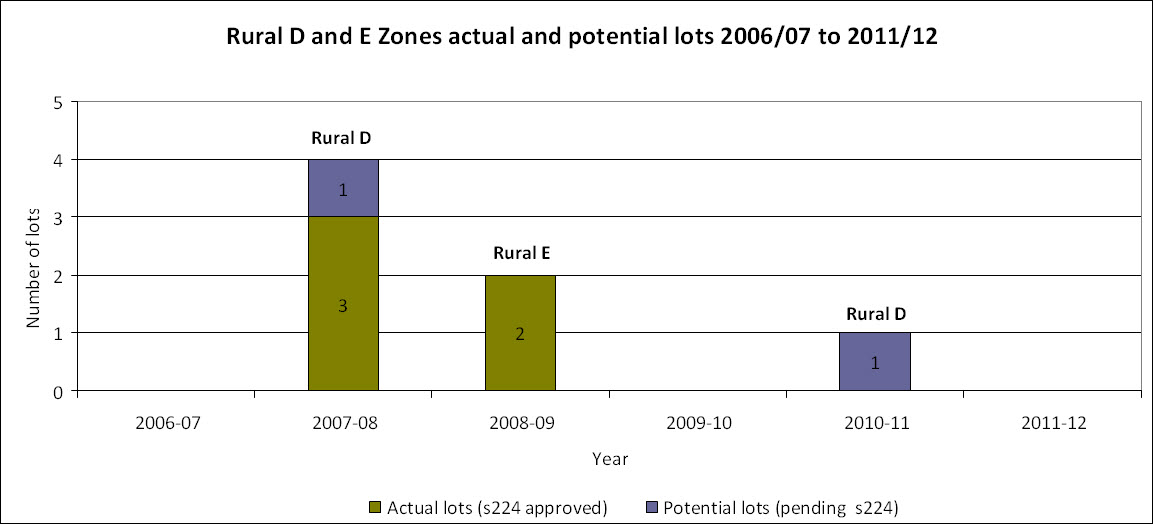 Figure 5
Source: Rotorua Lakes Council
In Summary
During 2006/07 to 2011/12 a total of 179 potential lots were created in the rural zones.
Of the above 120 were reached section 224 approval (actual lots) while 59 remain potential lots pending section 224 approval.
Trends in decreasing number of lots created are likely influenced by global economic climate and resulting market forces.
The majority of rural subdivision consents were in the Rural A zone and Rural B zone
Further information sources
To see the Operative Rotorua District Plan
To see the Proposed Rotorua District Plan
To make a submission on the Proposed Rotorua District Plan (closes 1st March 2013)
To see the Urban Subdivision Technical Paper