Road safety

Number of fatal and injury crashes per 10,000 people
Crash rate per 100 million kilometres travelled
View this page as a PDF (158KB)
Purpose of indicator
Crash rate and number of crashes are an indication of safety of the roading network and can help in assessing the effectiveness of Rotorua's road safety programme. Road safety is influenced by a number of factors. From a planning perspective the road environment can be designed and located in ways which improve road safety.
Current information and trend
The average number of injury crashes from 2002 to 2011 was 173.3 and has dropped by an average of 10.7 per year from 2007 to 2011 (figure 1). The number of fatal crashes during the same period (2007 to 2011) has also decreased by an average of 2.25 per year. In general, however, total crash rates have remained relatively steady since 2002 with small fluctuations either side of the mean (179). Fatal injury crashes were particularly high in 2011, with a total of 11 for the year. The crash rate per 100 million kilometres travelled (figure 2) also remains steady and shows a similar trend to the number of injury crashes.
Rotorua's road safety focus takes its direction from the New Zealand Road Safety Strategy (updated to Safer Journeys 2020' in 2011). The strategy's vision is a safe road system increasingly free of death and serious injury'. It identifies the priority areas for first action':
Increasing the safety of young drivers
Reducing alcohol/drug impaired driving
Safe roads and roadsides
Increasing the safety of motorcycling
The Rotorua Transport Strategy (RTS) 2006 is currently being reviewed. RTS addresses road safety issues such as speed, alcohol, intersections, education and Maori, where Maori are over represented in fatal statistics.
Council's current road safety education programme is detailed in the Road Safety Action Plan and focuses on:
Young drivers
Reducing speed, with an emphasis on rural roads and communities
Alcohol
Roads and roadsides, including rural intersections
Older drivers
Walking
Cycling
The Road Safety Action Plan is actioned by the Road Safety Operations team which includes community organisations and agencies, for example the Drivewise Rotorua Trust, Safe Kids NZ, Rotary International, local driving instructors, Police and Fire services to name a few. Rotorua Lakes Council and Bay of Plenty Regional Council also work together on projects and campaigns where appropriate, for example seasonal campaigns to reduce drink-driving.
The Signs on Roads Bylaw was adopted in 2008 to ensure signage doesn't impact on road safety. The Traffic Bylaw was adopted in 2010 to set the requirements for parking and associated control of vehicular or other traffic, including state highways located within any urban boundaries. This bylaw addresses issues such as parking areas and fees, towing of vehicles, placement of vehicles or objects on roads and display of items in public areas.
Road safety is addressed by the Operative Rotorua District Plan through urban design features, roading access performance standards, and design guides for roading layouts.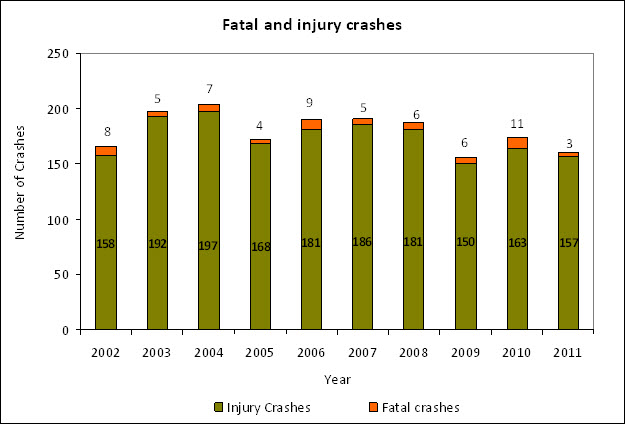 Figure 1.
Source: New Zealand Transport Authority, 2012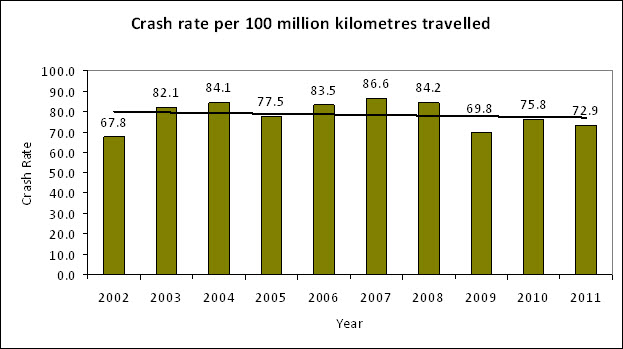 Figure 2.
Source: New Zealand Transport Authority, 2012
In summary
The number of injury crashes has dropped by an average of 10.7 per year from 2002 to 2011
The number of fatal crashes has also dropped by an average of 2.25 from 2007 to 2011, with 2010 recording an unusually high number of fatal injuries (11)
The number of injury and fatal crashes has remained relatively steady
The crash rate per 100 million kilometres travelled has also remained steady