Returning home - what you need to know
Council staff are working with agencies in order to assist you through the process of returning home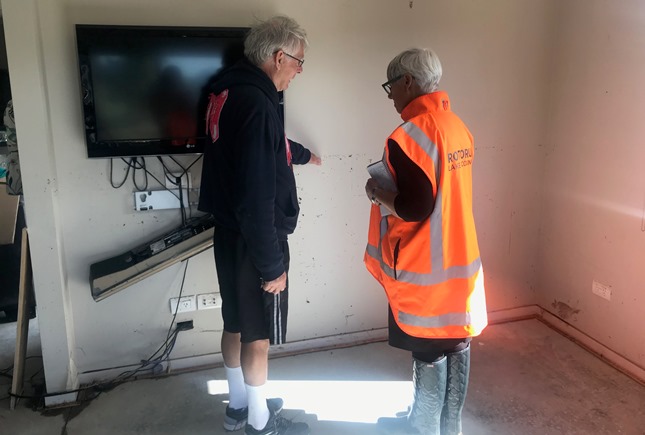 Insanitary Notices
Your home may have been issued with an Insanitary Building Notice, in accordance with the Building Act, because the building was inundated by water.
This means that the building cannot be lived in until such time as the necessary work is completed to rectify the insanitary conditions.
The work required may include (but is not limited to) the following:
Removing floor coverings contaminated by the flood waters
Removing lower sections of internal wall lining to allow the wall framing to dry
Removal of cabinetry and fixtures necessary due to damage to expose wall framing
Removal of wet insulation
A check and any remedial work to electrical systems
Ensure the structural framing contains less than 18 per cent of moisture
Once it has been confirmed that the moisture level in the structural framing is below 18 per cent, then the repair work can be completed
The work mentioned above does not require a building consent and can be managed by your insurer or a competent tradesman to complete this work.
To help you, Council has developed a Quality Checklist - Flood Damage Homes.DOCX that must be completed by the person/s, tradesperson/s carrying out the remedial work and all repair work must be completed in accordance with the Building Code.
Council's decision to remove the insanitary building notice will depend on the quality of information in the fully completed checklist which needs to be returned to Council.
It is extremely important to follow this procedure as failure to return the checklist at the completion of the repair work will result in the insanitary status of the building remaining open on Council's property file. This could prove problematic for the owner when the property is sold in the future.
Affected residents would have been sent a copy of the known house bracing plan for their home which can help the tradesperson identify the location of the bracing elements within the building that need repairing.
If no house bracing plan was sent, this means Council does not hold this information. If this is the case, we recommend that a tradesperson take all reasonable steps to identify and repair any bracing elements in your home.
The Building Act makes it mandatory for Council to provide a copy of the insanitary building notice to everyone who has an interest in the land.
What we know?
Many insurance companies have enlisted the services of contractors to carry out moisture level checks and repair work in people's homes
Remember
If you are organising your own home repair, you may need help checking the moisture content in the structural framing of your home
If this is the case, you can make an appointment with a building inspector by calling Council on 07 349 5646
If you need any further clarification or information on the repair process, please phone Council on 348 4199 and speak to the duty Building Consent Assessor.
What will be on my LIM?
If you have been issued with an insanitary building notice, your property's LIM will state that it was inundated with water, during a one in 100 year rainfall event. Once the repairs have been completed and the signed works completion form returned to Council, the property file will be updated with this further information. If details of the repair work are not returned to Council then the file cannot be updated and the insanitary notice cannot be lifted.
Flood recovery tips from the New Zealand Insurance Council
Follow the instructions of Civil Defence and emergency services providers.
Do not do anything that puts your safety at risk or causes more damage to your property.
Contact your insurer, or insurance adviser, as soon as possible.
Avoid entering flood water, either on foot or in a vehicle. Flood water can contain raw sewage and contaminants, conduct electricity and mask hidden hazards, and poses a serious hazard to health. It may be deeper, or moving faster, than you expect.
Try to make buildings safe and weatherproof but don't make any emergency repairs unless it is safe to do so. Don't start non-essential repairs without your insurance company's approval.
If water has entered your property, don't turn on your electricity until it has been inspected by an electrician.
Get essential services, such as water, electricity, gas and sewerage, repaired and keep copies of any invoices.
Do what's necessary to make your home safe and sanitary. When cleaning, wear a mask, gloves and overalls to minimise exposure to possibly-hazardous materials.
Take pictures and make a list of any perishables you have to dispose of.
Remove and discard any water or mud-damaged goods that pose a health risk, such as saturated carpets and soft furnishings.
Take photos of damaged property to help speed up the assessments and claims process.
Keep any damaged items that don't pose a health and safety risk.
Do not drive your vehicle if it has suffered water damage.
Restoring a house after flood damage