Work to begin on a new toddler play area at Rotorua Lakefront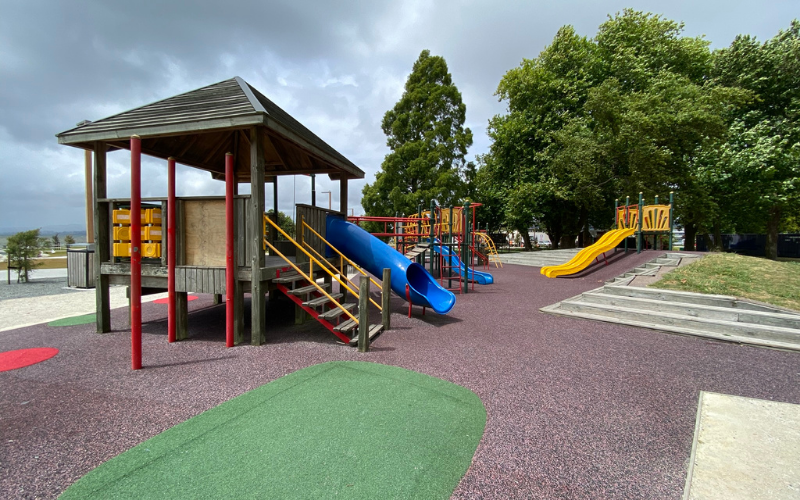 Local company Campbell Infrastructure will begin construction of the new, dedicated toddler play area at the Rotorua Lakefront next Tuesday (8 February).
The new toddler play area will be constructed where the existing Volcanic Playground equipment is and is expected to be complete in term two of this year.
The toddler play area has been designed to celebrate the natural environment of Rotorua. Once complete, the playground surfacing will depict a lake and waterfall, there will be a twin slide going down the waterfall, climbing rock holds for tamariki to role-play climbing up the waterfall, a beach area with real sand and sand play equipment, and a timber jetty. A springer boat will be positioned as though it has just left the jetty. There will also be a three-seater carousel swing with two baby/toddler seats and a small standard swing seat.
All the play equipment has been carefully selected to ensure it is suitable and enjoyable for under-fives and landscaping and seating will create a natural boundary around the play space.
The existing Volcanic Playground slides will be repurposed and the play tower is being refurbished to suit the new toddler play area.
While this work is underway, the new lakefront playground will remain open and families looking for toddler specific play equipment are encouraged to explore Taikākā, the Rotorua Reorua playground in the Government Gardens.
The new lakefront toilet block, Memorial Plaza carpark and boardwalk will remain open to the public during this time.
The addition of a new car park off Lake Road will also get underway from Monday 14 February. This car park will have 79 car parking spaces, including four accessible parking spaces.
The new Grounded Coffee and Teariffic Bubble Tea kiosks remain on site at the lakefront near the Memorial Plaza carpark and have coffee, snacks and drinks available for lakefront visitors.
You can find out more about the development of the Rotorua Lakefront HERE.