2021 in review: Market responding to Rotorua housing crisis
Housing development is gathering momentum as the market responds to Rotorua's housing crisis, alongside Council's focus on enabling more housing, through the likes of infrastructure investment, planning, and partnerships with iwi, Government, landowners and developers.
Work is underway on various developments across Rotorua city including at Wharenui and at Pukehangi where a 197-home lifestyle village is being developed by Freedom Villages.
New public housing is also planned for the city.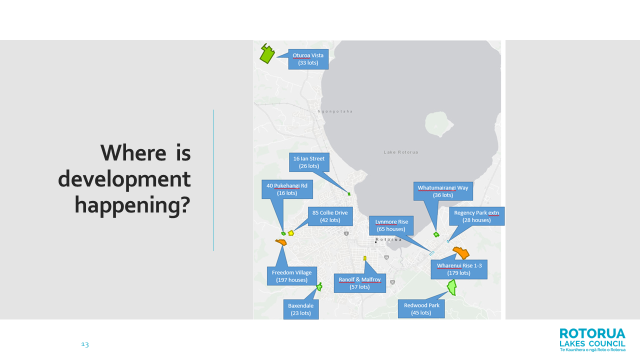 Elected members got an update today which included a look at consenting data that shows a significant increase in the number of new dwelling consents being issued.
Council has set some transformational targets as part of its 2021-31 Long-term Plan:
6,000 houses
9,000 jobs
25ha of industrial land
2 apartment buildings in inner city
Zoning + enablement for 10,000+ homes
Asked today if the targets were attainable, DCE District Development Jean-Paul Gaston told elected members "the direction of travel is good" with growing confidence in the community in general and among developers.
Mr Gaston also spoke about other housing-related work that has been achieved during 2021 and said there was a concerted focus on housing on many fronts across the council organisation.
DCE Infrastructure and Environmental Solutions Stavros Michael provided an overview of various infrastructure projects and work programmes which are aimed at supporting housing development and growth, including renewals and upgrades of the city's roading, water supply, wastewater and stormwater networks, including flood mitigation works.
To view the housing presentation go to this link: https://youtu.be/wWywfM95za8?t=2682
Got to this link to view the infrastructure presentation: https://youtu.be/wWywfM95za8?t=250