13 September 2021
Media: Rotorua Daily Post
Topic: Flying of tino rangatiratanga flag
Enquiry
Can I please get a comment from Steve Chadwick on a letter a kuia on Ranolf St was sent on Friday that criticised her for flying the tino rangatiratanga flag.
I've just been to see Jenny, who lives alone at the house. She's lived there since she was 3 months old (70 years - although left in between to have her own family but has since returned to the family home). She has flown the flag for nine years.
She put up two more flags after she got the letter and said there's no way she's taking it down!
Here is a link to the FB post her granddaughter posted on Friday. It's now had more than 500 shares.
I'm wanting to publish this story before 1pm if possible as other media have done stories on this, so would be great if Steve was able to respond asap.
As mayor of our city, how does Steve feel about this woman being given a letter like this?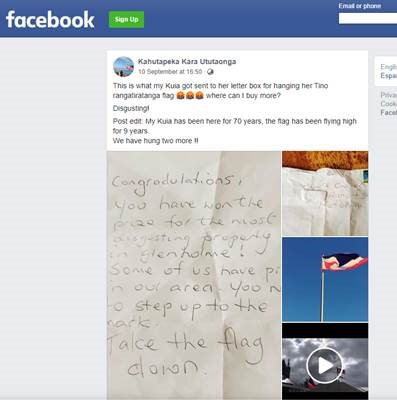 Response
From Mayor Steve Chadwick:
I'm saddened and disappointed there is still such intolerance in society today, especially in our community and especially right now as we navigate life through a pandemic.
It's tough for everyone right now and this sort of thing is completely inappropriate and unnecessary. We don't need any kind of division, we need to stick together as a community and look out for one another.
My husband and I were subject to this type of intolerance and I would encourage Jenny and her whanau to ignore it.