Work to begin on toddler play area at Rotorua Lakefront
14 September 2021
Work to begin on toddler play area at Rotorua Lakefront
Work on the Rotorua Lakefront Redevelopment resumed in Alert Level 3 and is progressing well.
Contractors are still working towards having all areas currently under construction complete and open to the public in December, however delays relating to the most recent COVID-19 lockdown may impact this.
Currently under construction is the new playground extension, new toilet block and the construction of the new shared path and grass terracing between the playground and lake edge.
Towards the end of September, local company Campbell Infrastructure will begin construction on a new toddler specific play area. This will be where the existing Volcanic Playground equipment currently is.
The toddler play area has been designed based on a typical lakefront setting and celebrates the natural environment of Rotorua. Once complete, the playground surfacing will depict a lake and waterfall, there will be a twin slide going down the waterfall, climbing rock holds for tamariki to role-play climbing up the waterfall, a beach area with real sand and sand play equipment, and a timber jetty. A springer boat will be positioned as though it has just left the jetty and is heading to the beach.
There will also be a three-seater carousel swing with two baby/toddler seats and a small standard swing seat.
All the play equipment has been carefully selected to ensure it is suitable and enjoyable for under-fives and landscaping and seating will create a natural boundary around the play space.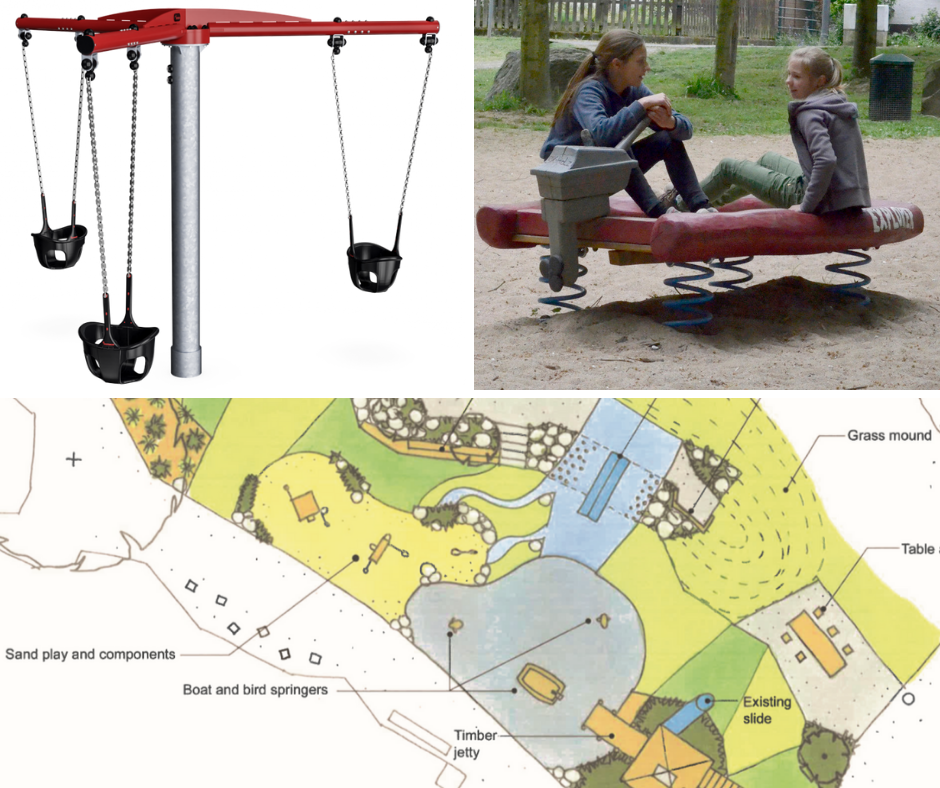 Once work on the toddler play area begins, due to the amount of construction ongoing in this area, and for safety purposes, this will mean the entire existing lakefront playground will be closed until both the toddler play area and the new playground extension are complete in December.
While the lakefront play equipment is closed, families are encouraged to explore other playgrounds and parks around Rotorua that have recently been refurbished. These include:
Jean Batten Square between Haupapa Street and Arawa Street
Kuirau Park playground, foot pools, and basketball court off Pukuatua Street and Ranolf Street
Taikākā, Rotorua Reorua playground, Government Gardens
Haumoana Playground on Haumoana Street in Koutu
Puketawhero Park on Te Ngae Road
The Memorial Plaza car park and the new boardwalk will remain open to the public during this time.
Other areas of construction getting underway this month include the extension of the boardwalk towards the western end of the lakefront reserve. To enable this work to start, the current lakefront operators are being moved to a temporary location, west of where they currently are.
Background information on Lakefront Redevelopment
In 2018, a $19.9 million Government investment from Kānoa – REDIU was announced for the project. This funding, alongside $20.1 million from Council, aimed to transform this recreational, economic and cultural resource.
In July 2020, an additional $1 million investment from Kānoa - REDIU was announced to progress work on the cultural design foundation for the lakefront project. This will consist of artwork, interpretation and design, with local artists creating carved pou, and information panels that will tell the korero history of the area.
The lakefront design reflects the heritage and deep connection of Ngāti Whakaue and Te Arawa to the Rotorua Lakefront and the project has been made possible through the support of our partners, the Gifted Reserves Committee (Pukeroa Ōruawhata Trust) and Te Arawa Lakes Trust.
Together, our vision is to develop the lakefront into an outstanding recreational area that will benefit locals, support tourism and encourage private investment. This in turn will create new jobs and benefit Rotorua's community.