SWAP bin audit provides key insights
In December 2020, Council undertook SWAP (Solid Waste Analysis Protocols) bin audits to help understand what waste services the public needs to dispose of their waste. By understanding what is thrown away, Council can plan waste services to help minimise the impact of the city's waste on our environment.
Councils are required by law to undertake SWAP audits every three years. The data collected from these audits is used to review what improvements, if any, should be made to Council's waste services to maximise waste diversion from landfills. It guides the Waste Management and Minimisation Plan (WMMP) that must be reviewed by Council every six years.
It also helps to identify gaps in recycling knowledge, and opportunities for education to improve waste minimization by locals.
You can read more about the December 2020 bin audit, here.
During 16-18 June, Council conducted a separate bin audit on the contents of household rubbish bins only. The data from the June waste audit will be used to show the winter waste generation trends in Rotorua, and can be compared with the summer trends from the December waste audit . This data will be used to plan an organic waste diversion service, which is being considered as part of Council's LTP 2021-31.
Below are the results from the waste audit undertaken in December 2020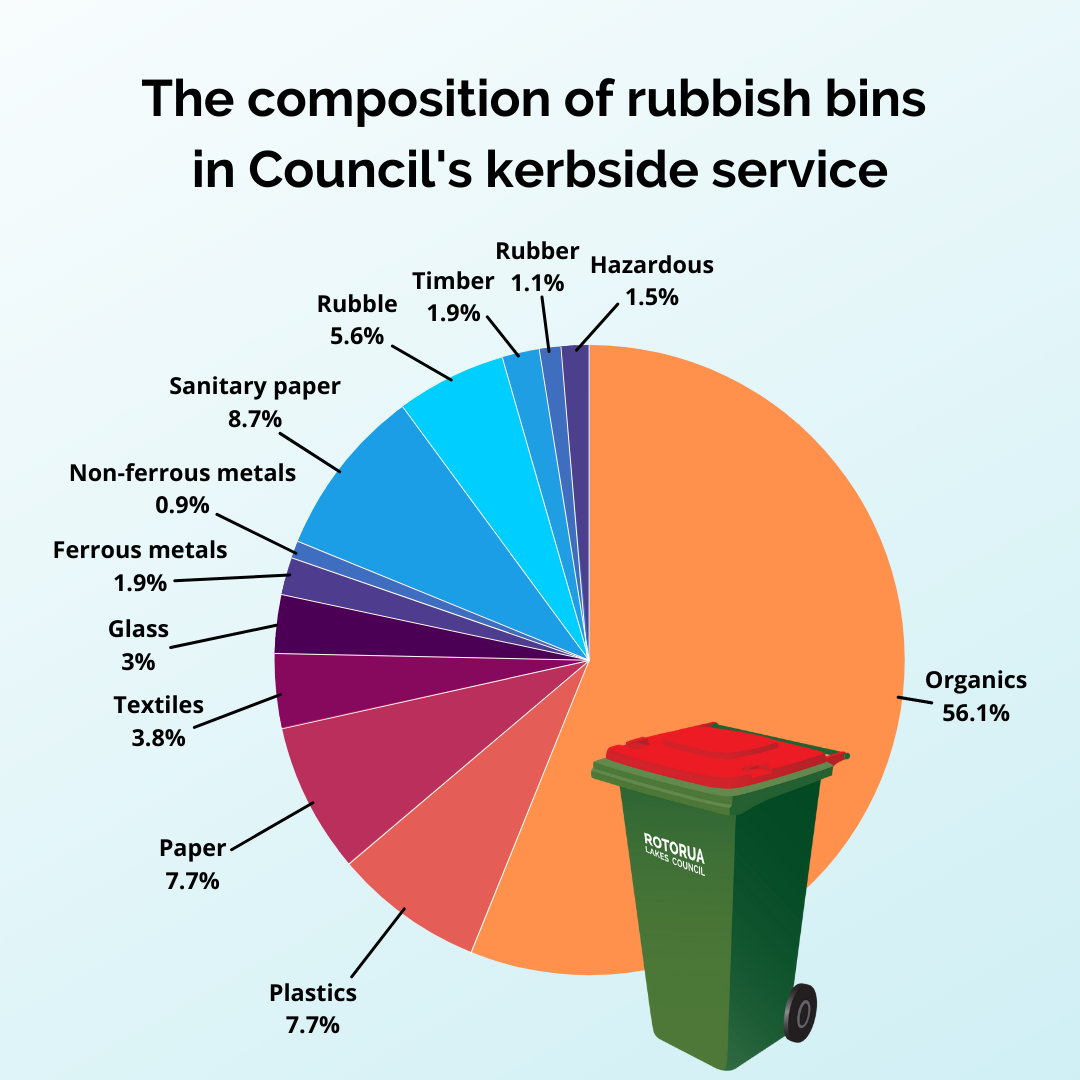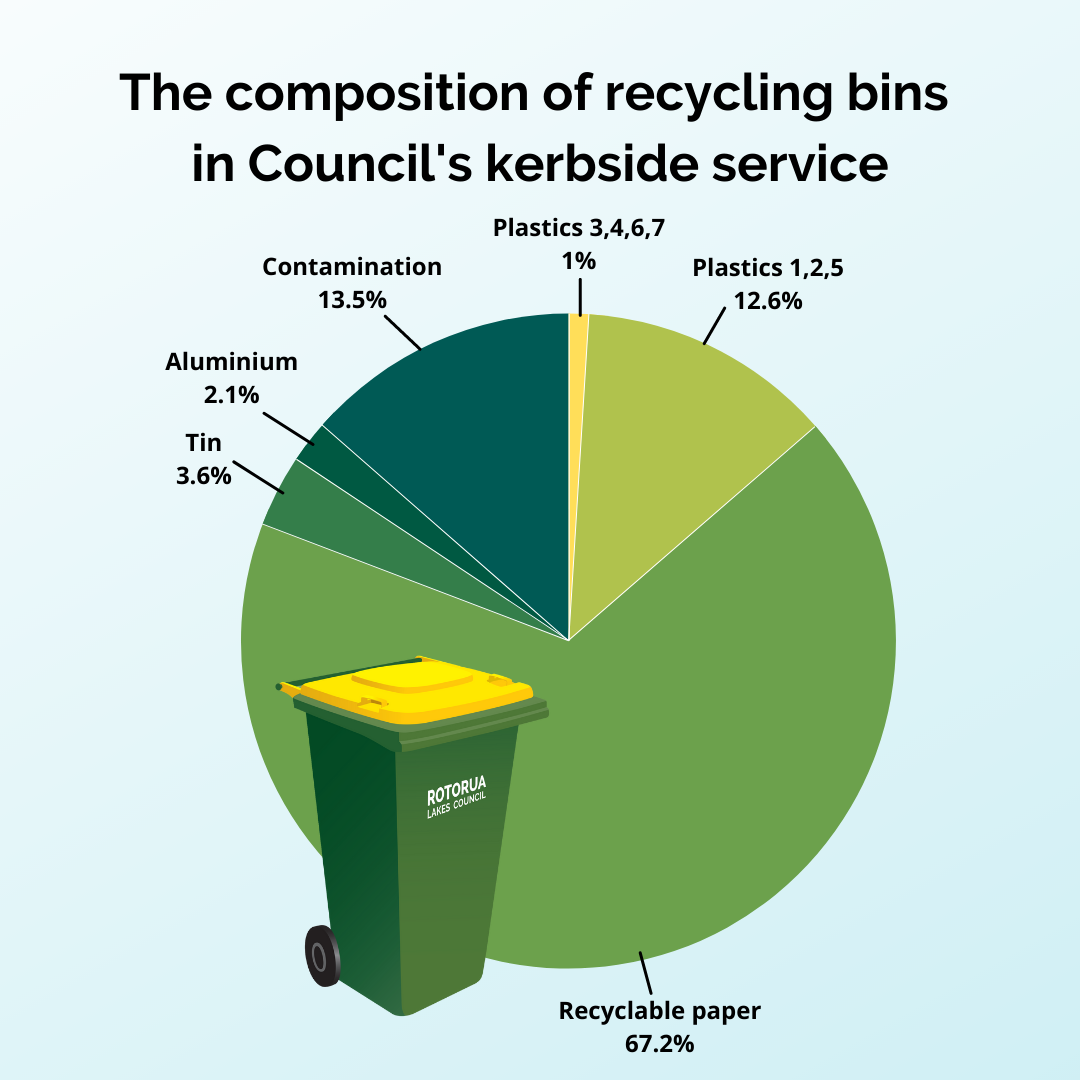 What are some key learnings from this?
According to this data:
More than half of the contents of the average rubbish bin could be diverted from landfill.
There is an average of 56% organic waste in rubbish bins, and over 60% of the materials (including paper, tissues etc) are compostable. This shows that more than half of the waste in an average rubbish bin could be easily diverted from landfill.
The large amount of organic waste in rubbish bins supports Council's plans to include organic waste collection services into the Long Term Plan 2021, to help reduce the impact of the city's waste on the environment.
Composting can also be easily done at home, through a compost heap, worm farm or bokashi bin.
When food, grass and foliage are broken down in the landfill, they produce methane which is one of the major greenhouses gases contributing to climate change. When organic materials are composted they break down into nutrient rich soil that can be used as a fertilizer and soil conditioner. Composting is a circular process that turns food and other organic items back into dirt, to be able to grow more plants and food.
Council is currently exploring an organic waste collection service to divert both food and green waste from the landfill through composting, and will be consulting with the community on a proposal for the service later this year.
We have room to improve our recycling habits to reduce contamination in our recycling streams
The average level of contamination in recycling bins is 13.5%. Contamination includes items that are not supposed to be in the yellow lid recycling bin, and recyclable items that still have food or liquid inside, or are dirty.
In the previous waste audit in 2017, the contamination level in recycling bins was 7.82%.
This increase in recycling contamination for Rotorua could be due to many factors, including the change in resident recycling habits after the COVID-19 Alert Level Four lockdown in March 2020. Recycling systems all over NZ were challenged by Alert Level restrictions in early 2020, and temporarily paused to prevent the spread of COVID-19. Recycling was able to resume in June 2020, once safety measures were integrated into Recycling Centers and Material Recovery Facilities, to prevent the spread of COVID-19.
Some examples of recycling contaminants are soft plastics, glass bottles or jars (which should go into the blue glass recycling crate instead of the yellow lid recycling bin), re-usable containers, and other plastic items can't be recycled through the kerbside service. You can find more information about common recycling contaminants here.
Recycling contamination is costly to Council and the environment.
During the 2019/2020 financial year, 562 tonnes of contaminants were removed from 2926 tonnes of collected mixed recycling from Rotorua, and sent to landfill. Reducing the amount of recycling contaminants in your recycling bin will help to lower the cost of recycling for the city, and also help lower emissions produced by trucks that transport the items between the Rotorua Recycling Centre, Material Recovery Facilities and landfill.
Putting only the correct items into your recycling bin, and ensuring recyclable items are clean and dry, will also reduce the number of items that unnecessarily go to landfill.
Where can I learn more about recycling, and improve my recycling skills?
You can find a list of items that you shouldn't put into your recycling bin, here.
Learn tips to improve your recycling skills, here.
To learn more about contamination and why it is a problem, click here.
Council runs events and workshops to encourage residents to understand the importance of diverting waste from landfill, through recycling and other waste minimization techniques. If you would like for our Solid Waste and Sustainability team to visit your school, or to sign up for the next waste minimization workshop, contact info@rotorualc.nz.
Council is currently working on a strategy to provide more education to Rotorua residents, and encourage locals to take pride in recycling correctly.
Contact info@rotorualc.nz for more information.