Parking changes at Rotorua Lakefront
6 August 2020
Parking changes at Rotorua Lakefront
From Wednesday 12 August there will be some car parking changes at the Rotorua lakefront as construction boundaries expand.
The fence line around the lake edge construction will be expanding out towards Lakefront Drive meaning the three parking bays highlighted in the image below will no longer be available for use. A section of cobblestones from the footpath in front of these parking bays will also be removed on Tuesday 11 August, which will affect access to some of the footpath.
To retain parking spaces at the lakefront reserve while construction is underway, the old Soundshell site will be converted into a temporary car park. Some additional work is required in this area before asphalt can be laid to create the car park. This will happen in the next few months. In the short term, vehicles can park on the cobbled area between the road and the old Soundshell site (see photo below). Vehicles can also park on the grass across the road from the old Soundshell site, in front of the Waiotahi construction site.
This is just a temporary measure to relieve parking pressures while construction at the lakefront is underway. Once the redevelopment is complete there will be the same amount of parking spaces as there was prior to construction and the temporary car park at the old Soundshell site will be transformed into a community space.
The lakefront operators remain open for business and a new Fix' coffee cart is currently in place near the ticketing offices.
Car parks (yellow stripes) unavailable from Wednesday 12 August
Vehicles can park in this cobbled area in front of the Soundshell site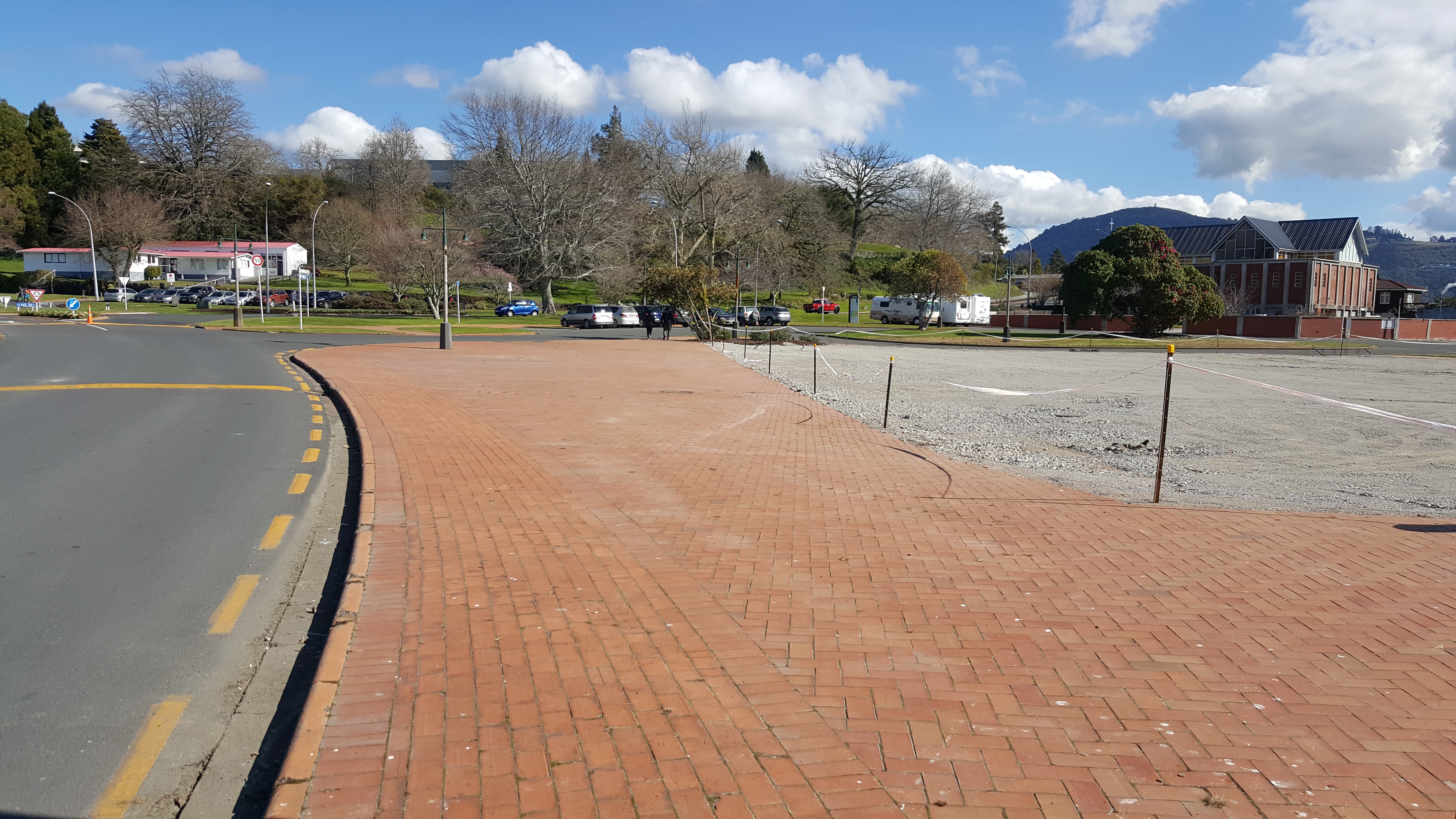 The Lakefront Redevelopment project includes removing old buildings that are no longer safe or fit-for-purpose, enhancing the landscape so there are more places to play or sit and relax with friends and whanau, extending and enhancing the playground area, improving the lake edge and lake ecology, and constructing new car parks and public toilets. The plan also includes a building site where investors could establish restaurants, cafs, kiosks and ticketing offices so there are more options for entertainment and fun at the lakefront.
Rotorua Lakes Council has received a $19.9 million Provincial Growth Fund investment, which will be used alongside $20.1 million of co-funding from Council, to transform this recreational, economic and cultural resource between now and 2021. The lakefront design has been made possible through the support of our partners, the Gifted Reserves Committee (Pukeroa Ōruawhata Trust) and Te Arawa Lakes Trust. The design reflects the heritage and ongoing contribution of Ngāti Whakaue and Te Arawa to the Rotorua district. Together, our vision is to develop the lakefront into an outstanding recreational area that will benefit locals, support tourism, and encourage private investment, which will in turn create new jobs and benefit Rotorua's community.
For more information about the Lakefront Redevelopment project visit visiontoaction.nz.