Customer Centre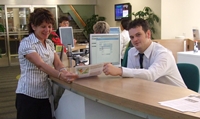 At Rotorua Lakes Council, customer service is our priority. Our aim is to get it right the first time.
The council's Customer Centre is the first point of contact for most council related enquiries. It is located just inside the main entrances to the RLC Civic Centre - easily accessed from either Haupapa St or Hinemaru St.
The Customer Centre and its customer advisers are backed up by a knowledgeable and experienced team looking after enquiries which come in to the council by telephone, mail, email and fax. Over 150,000 telephone calls alone are handled every year.
If you want to report something that needs the council's attention use our online FixIT request form.
Or if you need some information, if you want to tell us where we have provided some good service, or if we did not come up to your expectations you can send us an online feedback form.
For more information on how to contact the council go to our Contact Us page.
The Customer Centre is open Monday to Friday (except public holidays) from 8am to 5pm. We also provide an after hours telephone service for those urgent enquiries that can't wait until the next business day. At any time you can call us on 07 348 4199.
After Hours: After Hours telephone 07 348 4199
Award Winners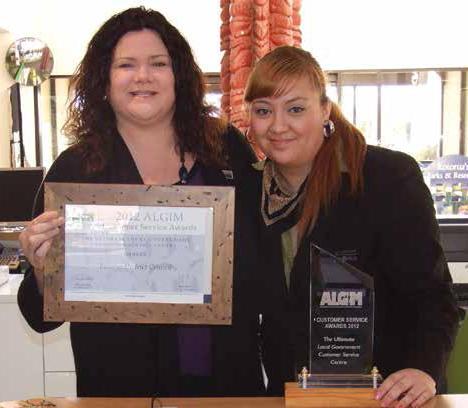 Winners of the 2012 ALGIM (Association of Local Government Information Management) Customer Service awards
Customer service is an important element in the council's Vision, Mission and Values. One of our core values reads: SERVICE: We strive for excellence, continuous improvement and value for customers.
As part of our commitment to customers and to providing good customer service, Rotorua Lakes Council also has a customer charter. This sets out what our customers can expect when they deal with us.
Remember you always have the right to voice your opinion.
ROTORUA LAKES COUNCIL
CUSTOMER CHARTER
We will:

- Listen, respond promptly and take responsibility
- Provide an appropriate staff member to assist at first contact
- Identify the staff member assisting you
- Offer information and services - and we will consult you
- Comply with laws, bylaws and regulations - and apply them fairly
- State the service standards you can expect
- Seek positive outcomes for all our customers
- Focus our activities on the needs of our community
- Treat people with honesty, respect, dignity, equality and fairness
- Seek to continually improve services for the benefit of customers
- Ask you how well we are doing and how we could do better
- Do our best to put things right and apologise if we make a mistake