Coat of Arms
On 10 December 1963, the Royal College of Heralds in England granted the Armorial Bearings of the District of Rotorua to the City of Rotorua. Rotorua District Council adopted the coat of arms at its first meeting, on 2 April 1979.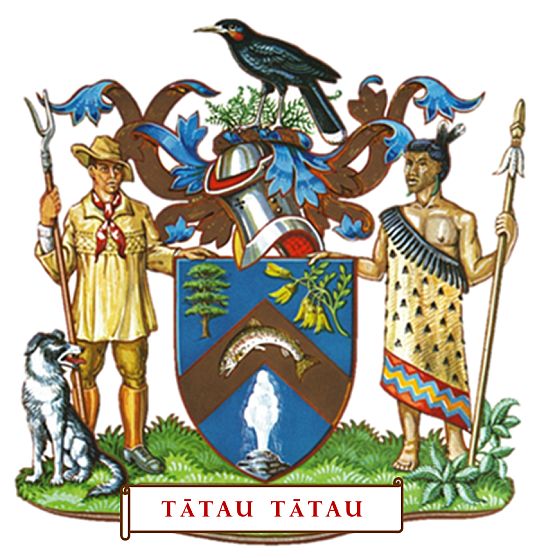 Arms
Azure on a chevron or a rainbow trout leaping proper between in chief a pine tree and a sprig of kowhai leaved slipped and flowered and a geyser issuing from rock in base all also proper.
Crest
On a wreath of the colours a male huia bird standing in a brake of New Zealand fern proper.
Supporters
On the dexter side a figure representing a farm settler of the nineteenth century, at his feet a cattle dog sejant and on the sinister side a figure representing a Maori chieftain all proper.
As described by The Royal College of Heralds
The significance of the coat of arms
The blue shield shows a pine tree, which represents the district's forestry industry, a sprig of kowhai representing the flora of New Zealand and a geyser representing thermal regions. A rainbow trout leaps across the gold chevron.
Above the shield is the esquire's closed helm (always used for civic arms) with its crest wreath and decorative tournament cloak. A New Zealand huia stands in a clump of New Zealand fern.
A nineteenth century settler, representing the importance of the farming industry to Rotorua, supports the arms on one side. A Maori chief supports the other side. He wears a korowai (cloak) and holds a taiaha (club).
The motto
In 1963, Rotorua was believed to be the only New Zealand city with a motto in Maori rather than Latin on its coat of arms.
Tatou tatou means "We together" or "We are one". These words were used to welcome the Prince of Wales (later the Duke of Windsor) on his visit to Rotorua in the 1920s. They were recommended as the motto by a former deputy mayor of Rotorua, Mr Pakeke Leonard, who was part of the committee which first considered a coat of arms for the city.