Matariki 2017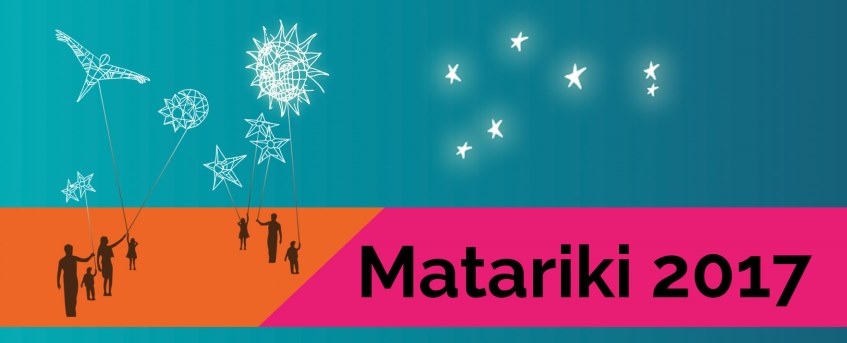 From parades to crafts. Talks to talent quests. There's a lot to love and learn about Matariki.
Matariki events in Rotorua
Join us in celebrating Matariki, with a range of FREE events around the region. View the booklet online or download a pdf.
Matariki Star Search 2017 Auditions
Ngā Pūmanawa e Waru and Rotorua Library bring you Matariki Star Search 2017.
If you are aged from 8 to 18 years and live in the Rotorua District, you could sing, dance or perform your way to being this year's Matariki Star Search winner. Noel Leeming Vouchers valued at $1,000 for the winners and $500 for the runners-up in each category.
Details:
Auditions: 6 to 15 June
Auditions on 8 June and 15 July are open to the public. Venue to be confirmed.
Finale: 19 July 2017 - Sir Howard Morrison Performing Arts Centre
Check the website for more information
Matariki Parade Art Sessions
Matariki Parade HQ, 1139 Pukuatua Street
In the lead up to Matariki and the Matariki All Stars Parade, get crafty with weekly parade art sessions. Go crazy with cardboard... make costumes, giant constructions, hats, masks, animals and flying beasts.
Masks & Hats Workshops
Thursday 8 June, 4pm - 7pm
Friday 9 June, 4pm - 7pm
Lantern Workshops
Thursday 1 June, 4pm - 7pm
Friday 2 June, 4pm - 7pm
Thursday 8 June, 4pm - 7pm
Friday 9 June, 4pm - 7pm
Saturday 3 and 10 June, 10am - 3pm
Sunday 11 - Wednesday 14 June, 4pm - 7pm
Go to their Facebook page for more information
Matariki Whānau Day
Sunday 11 June, 10am - 3pm
Te Rūnanga Tea House, Government Gardens
Hosted by Rotorua Museum, bring the whanau along for a fun day of Matariki-themed crafts, storytelling, face painting, colouring and more.
Check out the event listing for more information
Messy Church Matariki
Sunday 11 June, 4pm - 6pm
St Lukes Anglican Church, 1223 Amohia Street, Rotorua
Enjoy Matariki activities, crafts and worship, with a light meal provided. Families and all ages welcome.
Contact: Jocelyn Czerwonka
P. 027 211 4440 or 07 348 5390
Tīma Tāngata Māori Rugby Exhibition
Wednesday 14 - Friday 23 June, 9am - 4pm
Energy Events Centre, Queens Drive
106 years of Māori rugby with past great Māori All Blacks guiding visitors through the exhibition.
Contact 027 435 8071
Entry: Gold coin donation
Stars for Stars
Friday 16 June, 12noon - 5pm
Māori Weaving Rotorua, 1144 Hinemoa Street, Rotorua
Celebrate the Māori New Year by learning how to make a star from native NZ flax to take away with you. Suitable for all ages and all materials provided.
Matariki @ the Night Market
Thursday 15 June, 5pm - 9pm
Tutanekai Street
Soak up the flavour of the night market with local kai (food) music and dance, along with a touch of Matariki seasoning. Discover what's happening around Rotorua during Matariki, and enjoy special Matariki night lights and entertainment.
Matariki All Stars Parade
Friday 16 June, 7pm - 9pm
Tutanekai St & Village Green
Enjoy the festive atmosphere of Rotorua's Matariki celebrations in this fun-filled evening of colour, noise and stars. Join the parade of lanterns through the city centre collecting specially themed Matariki stars along the way to make up the star cluster of Matariki. Starting at the Arts Village the parade finishes at the Village Green with music, entertainment and a magical fireworks display.
Go to their Facebook page for more information
Giant Haka - Guinness World Record Attempt
Saturday 17 June. Gates open & entertainment from 10.30am. Haka starts 12noon
The Village Green, Rotorua Lakefront
Come down to the Village Green and be part of this history-making attempt to perform the world's largest haka. We need as many people as possible to participate in the famous Ka Mate haka - instructions will be given on the day. Our Facebook event is a great place to share practice tips, so no need to worry if you don't know it yet!
Go to the Facebook page for more information
NZMACI 50th Celebrations - Matariki
Te Puia | New Zealand Maori Arts & Crafts Institute, Rotorua
All events are free for locals with a whānau card. Otherwise standard admission charges apply (see tepuia.com for admission charges).
Matariki Lectures
Monday 19 June - Friday 23 June, 9am
Learn about the history and traditions of Matariki in these fascinating lectures
Live Tā Moko Demonstrations
Monday 19 June - Sunday 25 June, 10am - 5pm
Watch tā moko practitioners in action and learn about the designs and techniques from the artists.
Tā Moko Lectures
Monday 19 - Friday 23 June, 12.30pm
Learn about the history and traditions of tā moko from respected practitioners of the art form.
Matariki Whakaari (Play)
Monday 19 - Friday 23 June, 11am and 1pm and Monday 26 - Friday 30 June, 11am only
A special one hour long Matariki Whakaari (play) presented by Ahorangi Genesis for primary school students.
Manutukutuku making (Kite making)
Monday 26 - Friday 30 June, 10am - 5pm
Traditionally kites were flown for recreation but also served other purposes; to predict whether an attack on an enemy would be successful, for communication, and they were also flown to celebrate the Māori New Year.
Te iwa o Matariki - The Jojo Super 9s kapa haka competition
Monday 26 June - Friday 30 June, daily at 1.15pm
Teams of 9 performers battling it out for 9 minutes on a fierce competition combining traditional kapa haka with innovative entertainment.
The Astronomy of Matariki
Talk and book signing with Dr Rangi Mātāmua
Thursday 22 June, doors open 6pm for 6.30pm start
Rotorua Energy Events Centre
Hosted by Rotorua Museum, acclaimed Māori astronomer Dr Rangi Mātāmua (Ngai Tūhoe), talks about Matariki from its early origins to the place it has in society today. The talk will finish with the opportunity to purchase a signed copy of Dr Mātāmua's recently published book Matariki: The Star of the Year.
Check out the event listing for more information
Matariki Open Day
Eastern Suburbs Pre-School
Tuesday 20 June & Thursday 22 June, 8.30am - 11.30am
10/12 Bronte Place, Owhata, Rotorua
Fun Matariki activities for children up to five years old, with a morning tea for parents and whānau.
P. 07 345 5988
E. escp@xtra.co.nz
Matariki Rotorua Art Exhibition
Friday 23 June - Sunday 29 July
Penny Haka Gallery, 9 Tryon Street, Rotorua
With a special opening from 6pm on Friday 23 June, this exhibition includes works by New Zealand and international artists. A Matariki calendar is also available for purchase.
Guest speaker evenings (5pm - 7pm) include Friday 30 June, Friday 7 July, Friday 14 July, Friday 21 July. Closing night on Sunday 29 July, 6pm - 10pm, will include a 3D projection, movies and activities. Food will be available for purchase on these event evenings.
Matariki Celebration | A Group Exhibition
Thursday 27 June - Tuesday 1 August
Helium Gallery, 1155 Hinemoa Street, Rotorua
Helium Gallery's Matariki exhibition bringstogether local artists in a show of affordable artworks.
Artists were given a template and, within that, the freedom to create whatever they wished. The result is a diverse exhibition with the unique opportunity to acquire an original artwork for $200 or less.
Matariki Star Search 2017 Finale
Wednesday 19 July, 6pm
Sir Howard Morrison Performing Arts Centre
Following the huge success of last year's event, Ngā Pūmanawa e Waru and Rotorua Library bring you Matariki Star Search 2017. The evening will include a range of performances in this fantastic showcase of Rotorua youth.
Check out the website for more information
_________________________________________________
It's Matariki Star Search time in Rotorua
One of Rotorua's premier events for talented youth, Matariki Star Search, is back and promises to be even better than last year.
Organised by Ngā Pūmanawa e Waru and Rotorua Library, Matariki Star Search 2017 is open to singers, dancers and performers aged from 8-18 years living in the Rotorua district.
Prizes are reflective of the calibre of the event with:
$1000 Noel Leeming voucher going to the winner
$500 vouchers for the runner-up in each of the three categories
$250 Noel Leeming voucher will also go to the People's Choice Award winner on the night of the finale.
New categories have been added this year and individuals, duos and groups can enter in singing, dance or ngā mahi a rēhia o te ao (global performing arts) categories.
The Ngā mahi a Rēhia category has been extended to include performing arts that draw on cultural traditions from anywhere in the world, including Māori and Pasifika performing arts.
Entries for Matariki Star Search 2017 are now open and close Monday 22 May 2017.
Auditions will be held between 6 and 15 June 2017 at Rotorua Library and the finale will be at the Sir Howard Morrison Performing Arts Centre on Wednesday 19 July 2017 at 6pm.
Download an entry form or pick one up from Rotorua Library or Ngā Pūmanawa e Waru in the ANZ Building, Rotorua Central Mall.
________________________________________________
Do you want help promoting your 2017 Matariki event?
Are you organising a free event in your community to celebrate Matariki 2017?
Rotorua Lakes Council wants to make this year's Matariki celebrations in Rotorua the best so far and if you are organising a free community event to mark the occasion, we would love to help promote it, alongside the other events taking place in the district.
There are already some fantastic events on offer around the rohe (region) including The Matariki All Stars Parade on 16 June, The Matariki Star Search showcasing some of the fantastic talent around Rotorua (auditions close on 22 May) plus crafts, workshops, talks, exhibitions and more.
During this time there will also be an opportunity to be part of a world record haka attempt at the Village Green on 17 June which will be part of the local events for the Lions Tour.
If your event is free, celebrates some aspect of Matariki and falls during the period 8 - 30 June 2017, Rotorua Lakes Council would like to support you through a range of marketing material being produced to publicise everything that's happening around Rotorua for Matariki.
The promotion will be at no cost to event organisers and will include:
An event listing in the Matariki booklet and on Council's website
Combined social media promotion
Combined advertising
Promotion at the Night Market on Thursday 8 and Thursday 15 June
To be included in the list of local Matariki events, the following information is needed:
The name of your free event
Where and when it will be held
30-40 words describing your event
Contact details for your event (phone, email, website)
The names and/or logos for any sponsors or organisations that need to be recognised
An electronic image for your event if you have one (at least 1MB)
SUBMISSIONS CLOSED - The deadline for event submissions was 5pm Friday 5 May 2017.
More 'how to' information available Add your Matariki event to RotoruaNZ.com.pdf