Te Pou Pānui - Rotorua community event signboards
Want to promote and share your event?
Want to find out what events are coming up?
Te Pou Pānui is an initiative to help community groups, clubs and businesses share and promote events to locals and visitors. Te Pou Pānui are a way to safely, legally and economically advertise events without having to apply for permits and/or resource consents.
We hope Te Pou Pānui become key information hubs to find out what events and activities are taking place in our rohe.
Te Pou Pānui can be found in six locations around Rotorua:
Corner of Fairy Springs Road and Kawaha Point Road
Corner of Lake Road and Ranolf Street ('hospital hill')
Fenton Street - opposite Malfroy Road intersection
Te Ngae Road - opposite entrance to Puarenga Park
Corner of Tarawera Road and Longmile Road
Old Taupo Road - Centennial Park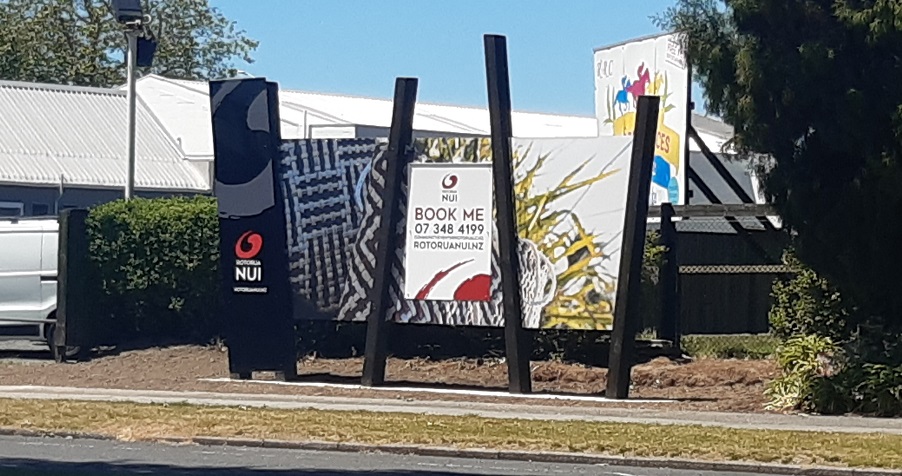 Booking information:
Te Pou Pānui are available to both community and commercial entities. Rotorua Lakes Council has negotiated competitive pricing for booking fees and for installation and removal of the signs.
Each event advertising space must be booked for a minimum of two weeks and up to a maximum of six weeks depending on availability.
Sign designs and printing must meet all criteria set out in the booking agreement terms and specifications sheet - see below:
For more information about Te Pou Pānui or to book your space please email: community.events@rotorualc.nz
Find out what events are happening in Rotorua at www.rotoruanui.nz
Sign rules
It is important that our community adheres to signage rules set by Rotorua Lakes Council via the District Plan and also the Signs on Roads Bylaw 2015.
These rules apply to all signs visible to the public - even if they are on private property.
If you have questions relating to signage please contact Council's Customer Centre on 07 348 4199 or info@rotorualc.nz