Lake Rotorua
Lake Rotorua is the largest lake in the district and the most productive trout fishery in New Zealand. With the city of Rotorua on its shores, it is much valued and used by locals and tourists alike.
Lakefront
The Lakefront Reserve features BBQs, picnic tables and other areas perfect for family oriented activities. The reserve is also used for public events such as craft markets, pony rides and concerts. The reserve includes the Village Green (bounded by Whakaue Street, Tutanekai Street and Memorial Drive) and the War Memorial Park which was opened in 1958.
Available Facilities:
Barbeques
Toilets facilities - at Memorial Drive end of the lakefront
Children's playground
Boat ramp
Parking and reserved parking for mobility card holders
Access to Rotorua walking track (accessibility friendly)
Sulphur Point
Visible from the Lakefront, Sulphur Point includes a boat ramp, toilet facilities and access to the Rotorua walking track. See the wildlife and the rainbow of colours in the Sulphur flats. You can access Sulphur Point by turning left behind the Rotorua Energy Events Centre behind the Rotorua Museum (Queens Drive).
Available facilities:
Toilet facilities
Boat ramp
Parking area
Access to Rotorua walking track (accessibility friendly)
If you are visiting this area please take note of the wonderful wildlife but remain on the tracks. Some of the birds that make Sulphur Point their home are threatened species and are protected by the Department of Conservation.
Hamurana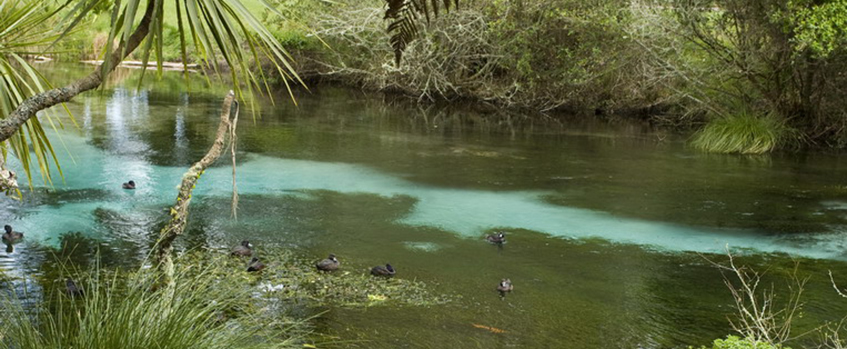 Hamuranā is famous for its beautiful, crystal-clear, freshwater springs. The water, once above ground, flows into Lake Rotorua.The waters of the springs are a wildlife sanctuary and play host to many bird species, including scaup and the endangered dabchick. The springs are a major source of water supply for the Hamuranā and Ngongotaha areas.
Hamurana Springs can be found on the northern shores of Lake Rotorua alongside Hamurana Road. Hamurana stream is also a popular hotspot for trout fishing. The water is quite shallow, so this can be a safe spot for children to swim in.
Available Facilities:
Barbeques
Picnic table
Toilets facilities
Children's playground
Boat ramp
Hannahs Bay
The reserve is situated on the shores of Lake Rotorua just behind the Rotorua Airport and is surrounded by the revitalizing Kahikatea forest. The beach is commonly used for swimming, windsurfing and has easy access for water skiing and jet-skis.
Available Facilities:
A mobility playground
Dog exercise areas
Horse bridle trail
Large open spaces for recreational activities
Wheelchair-accessible wetland walkway